Vengeance is a complicated motivator that makes for great storytelling. I may not be big on revenge in real life, but I sure do enjoy a good revenge plot. Revenge stories often act as jumping-off points for multilayered explorations of anger, betrayal, jealousy, power dynamics, injustice, and social change. This month, I'm highlighting three recent favorite audiobooks that all delve into the uses of revenge and vengeance—albeit in unique ways. If you're wondering how a YA coming-of-age story, an epic fantasy, and a rom-com can all be about revenge: read on!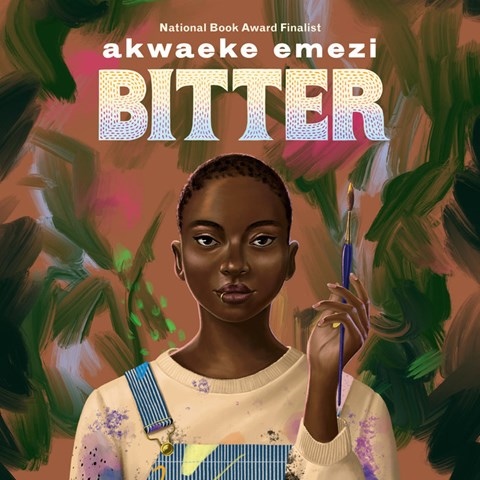 BITTER, the prequel to Akwake Emezi's YA novel PET, explores just how thorny and complex themes of vengeance and revenge can be. Bitter is a teenager at a school for artistically gifted students in the city of Lucile. While most of her friends are involved with the revolutionary group Assata, which is working to bring justice to the city, Bitter prefers to stay where she's safe and make art. But when she calls a menacing angel to life out of one of her paintings, she suddenly has no choice but to get involved. Bahni Turpin's perfect narration captures all of Bitter's anger, ferocity, fear, and uncertainty. She also breathes life into the angel, whose name is literally Vengeance. Her voice deepens and thickens and takes on an entirely otherworldly magic as Vengeance tears through the city, intent on justice at any cost.
BITTER is a coming-of-age story about a young woman finding her voice. It's also about the uses of anger, the many avenues to social change, and the dangers of using revenge as a means to an end. The novel is full of lively characters, both teenage and adult, and all of them have different ideas about power, violence, vengeance, and justice. Turpin pours all of those differences into her careful voicing of each character. In her voice, you can easily hear where each character is coming from, their particular hurts and preoccupations, the experiences that have shaped their understanding of the world. Emezi's characters don't offer simple, easy answers to the question of the uses and morality of vengeance and revenge. Instead, this book opens a nuanced conversation about what it means to fight for a cause, care for a place, and live in community.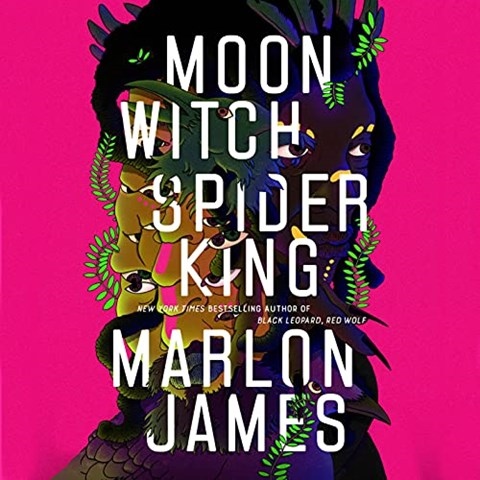 It's no surprise that Bahni Turpin brilliantly narrates another recent revenge-focused audiobook. In MOON WITCH, SPIDER KING, the second installment in Marlon James's Dark Star trilogy, she gives a breathtaking performance as Sologon, a 177-year-old witch whose tumultuous life has been defined by a feud with her sworn enemy, the Aesi. After the Aesi, chancellor to the king, wrongs her family, Sologon sets out on a quest for vengeance that consumes most of her life. This is an intricate, twisty book with a large cast of characters, dozens of settings, and a long timeframe. Turpin is more than up to the task. She creates a unique voice for Sologon that sounds so exactly right that it almost feels as if James wrote the character just for her. But she gives equal attention to the rest of the large cast, creating unique voices for monsters, witches, shapeshifters, children, and politicians. Her narration is full of cackling and throat-clearing, angry shouting and whispered incantations, exhausted rants and unplaceable accents. It's as magical as the book itself.
While BITTER is about revenge as it relates to community building and social justice, MOON WITCH, SPIDER KING is about how the need for revenge shapes one woman's identity. It's an epic fantasy, but it's mostly a character study. Sologon has many adventures as she discovers her powers and comes into herself. But even as her circumstances change, it's her desire to see her enemy destroyed that always fuels her actions. Some fantasy novels excel in plot and world-building; others are inventive in theme and structure. MOON WITCH, SPIDER KING has it all, with an utterly unforgettable and unapologetic heroine at its heart. It's also worth noting that while technically a sequel, it's more accurately a companion novel. It begins long before BLACK LEOPARD, RED WOLF, and the events of that book are only tangentially related to Sologon's long and eventful life.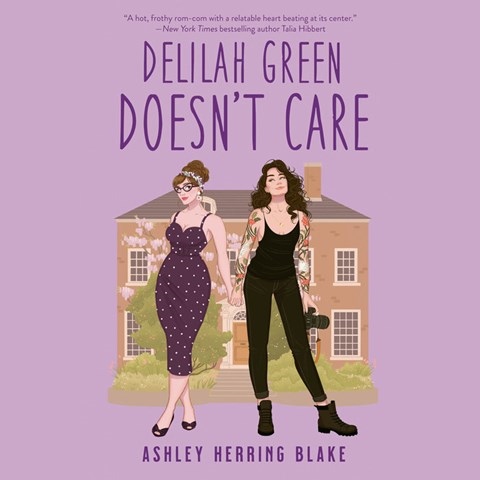 If you're in the mood for something lighter and a lot less intense but still enjoy a revenge plot every now and then, you might want to listen to Ashley Herring Blake's delightful queer rom-com DELILAH GREEN DOESN'T CARE. Narrator Kristen DiMercurio gives this charming story all the gusto it deserves with her inviting narration. As a teenager, photographer Delilah Green fled her small Oregon hometown for New York, desperate to get away from her uncaring stepsister Astrid and stepmother and her painful memories of her late father. So when Astrid hires her to photograph her wedding, Delilah is not thrilled about returning to Oregon. She's certainly not expecting to fall for one of Astrid's best friends, Claire.
DiMercurio's beautifully captures the essence of every character, from Delilah's lofty, nonchalant stepmother to Claire's precocious and creative pre-teen daughter. But she's especially good as Delilah, who she voices with the perfect mix of cool detachment and repressed loneliness. At first, Delilah decides she'll get through her time at home by making Astrid's life as miserable as possible, and she sets out to ruin her wedding. But as she falls for Claire, she realizes just how complicated her family's past is, and that there is a lot more to her sister than she thought. Her small pranks and vengeful antics end up leading not to revenge, but to reconciliation. There's so much to love in this warmhearted story of romance, healing, and sisterhood.