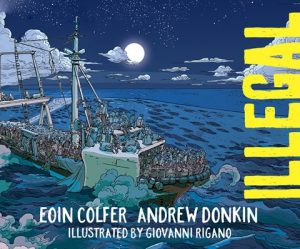 AudioFile spoke with Dreamscape Media publisher Tammy Faxel and Deyan Audio's Khai Dattoli and Bryan Lincoln about adapting and producing Eoin Colfer and Andrew Donkin's graphic novel ILLEGAL for audio.
AudioFile: What was it about ILLEGAL that made you interested in adapting it as an audiobook? Why is it an important title for young listeners?
Tammy Faxel: It was a powerful and moving graphic novel that uniquely told the difficult story faced by so many immigrants. This is such a huge issue in the world right, now and I felt an audiobook would help children understand the real plight that so many are facing every day–that an audiobook of this amazing novel would reach children in a way that would make the issue more relatable and real-life through the multi-voice narration.
AF: Adapting a graphic novel to an audio production seems like a challenge. What did that process entail for you?
Khai Dattoli: This was indeed quite the challenge, and one that definitely had to be planned before the recording studio. Some of the most moving moments in ILLEGAL involve no words at all; it's just the exquisite expressions of a boy who has lost so much, or the haunting imagery of a small hand outstretched to chaos and death. The story grips listeners because of the first-person perspective of a young refugee, so I did not want to just describe the pictures of the panels, I wanted to tell as much as possible through Kwame's voice. At the same time, that voice had to match what the author had written as well.
My background as a playwright was incredibly helpful; plays usually tell a story through the voices of their characters more than anything else. If I didn't feel that something important could be easily conveyed through speech, though, I wrote in a sound effect that would help. It took several passes and many times reading out loud to myself, but eventually I had a script that I felt told the complete story without the pictures.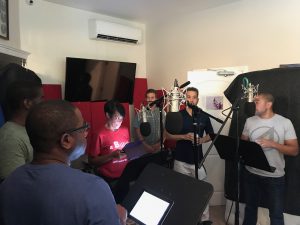 AF: Tell us about the casting process.
KD: This story has so many characters that it was very impractical to have a different narrator for each one. So we looked for people who could authentically sound like a range of different people. I found parts of the script that had a variety of roles (drug dealer, young refugee, military guard, etc.) and asked for the potential narrators to record them all. To make it even more difficult, though, they had to use accents! It was quite the performance gymnastics, but we found a great group of people who were able to bring all the voices of the story to life.
AF: Did the narrators record together as a cast in the studio? How did that contribute to the atmosphere of the audiobook?
Bryan Lincoln: They did record together. As the saying goes, acting is reacting. Having them interact is an important part of the process in turning audio drama into a believable performance. There's a lot of information in the timing, pacing, energy of delivery, shortness of breath, etc. It's very different from audiobooks because there is usually little to no narration describing how characters are feeling. Also, it's way more fun to be able to have that group experience when creating an impactful story. I know the actors greatly prefer it to sitting alone in a booth.
KD: These narrators are such a talented group who really fed off of each other's energy. It's so much easier to tap into the emotion of a scene if you have someone else there in the moment with you. Also, they were so game to try anything, even script changes I made on the fly during the session. It ended up feeling more like a staged reading than a typical recording session, and with so many people having a theater background in the group, it was just a fantastic experience.
AF: You also used music and sound effects to help create the soundscape.
BL: Good sound effects require a lot of detail and subtlety. You want to sense the characters moving and carrying out actions without distracting from the vocal performance. Good choices of ambiance and music can help blend it all together and make it an immersive, enjoyable experience. But you must be careful! An African city will sound very different from a European or Asian city, especially if people are speaking in the background. Sound libraries can never be big enough!
AF: Anything else that you'd like to share with us about the making of ILLEGAL?
BL: Converting a comic (a visual-only medium) to a modern audio drama (an audio-only medium) can be tricky. Not every image is easily converted to a sound that conveys the important information of a scene. The diverse scenes and epic nature of ILLEGAL lent themselves well to audio, and the whole project was a pleasure to put together.
KD: I really appreciated working on ILLEGAL because of the creative problem solving it required, and because of the story itself. I've read about refugees and problems halfway across the world, but nothing has hit me at my core like the story of this little boy's journey. The struggles and heartbreak all the characters endure connected me to this issue in a way that no news program could. It was eye opening, and I hope this story can create more compassion in others as well.
Thanks so much to Tammy, Khai, and Bryan for taking us behind the scenes of this audio adaptation!
More Graphic Novels on Audio
THE AGONY HOUSE
by Cherie Priest, read by Haven Burton, Thérèse Plummer, Jesse Vilinsky, Tristan Morris, Adam Grupper
Scholastic Audiobooks
AudioFile Earphones Award
CEMETERY GIRL: The Pretenders
by Charlaine Harris, read by a Full Cast
GraphicAudio
AudioFile Earphones Award
MAX AND THE MIDKNIGHTS
by Lincoln Peirce, read by Marc Thompson, Christopher Gebauer, Kristen DiMercurio, and a Full Cast
Listening Library
AudioFile Earphones Award
MS. MARVEL: NO NORMAL
by G. Willow Wilson, read by Shanta Parasuraman, Matthew McGee, Nora Achrati, and a Full Cast
GraphicAudio
THE INVENTION OF HUGO CABRET
by Brian Selznick, read by Jeff Woodman
Scholastic Audiobooks
NEW KID
by Jerry Craft, read by Jesus Del Orden, Nile Bullock, Robin Miles, Guy Lockard, Peyton Lusk, Rebecca Soler, Dan Bittner, Phoebe Strole, Marc Thompson
Harper Audio
NIMONA
by Noelle Stevenson, read by Rebecca Soler, Jonathan Davis, Marc Thompson, January LaVoy, Natalie Gold, Peter Bradbury, David Pittu
Harper Audio
ROLLER GIRL
by Victoria Jamieson, read by Almarie Guerra and a Full Cast
Listening Library
TOMBOY: A Graphic Memoir
by Liz Prince, read by Erin Yuen, Christina Morales Hemenway, Elizabeth Cottle, Pete Cross, Nicholas Mondelli
Dreamscape Unabridged
This article was adapted from the April/May issue of AudioFile Magazine.