This week on Behind the Mic we're hearing the full truth, and nothing but the truth, about narrating Hector Macdonald's TRUTH.
"Hector Macdonald has done us all a great favor. He has done a deep dive into this current information landscape."—Narrator Robert Fass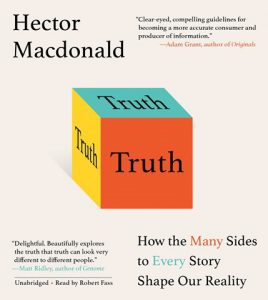 TRUTH: How the Many Sides to Every Story Shape Our Reality 
by Hector Macdonald
read by Robert Fass
Hachette Audio
The truth is that Robert Fass gives listeners a fascinating presentation of Macdonald's treatise. He dissects the many ways we talk about truth in a world of fake news, memes, and the bald-faced lies of our leaders. Robert lays out the ideas clearly, untangling some of the complex ideas. Hear a sound sample and read AudioFile's full review.
Explore the many sides of Robert Fass in his audiography that includes history titles like CUBA LIBRE and THE GREAT QUAKE, fiction from Carlos Fuentes NIETZSCHE ON THE BALCONY, and George Plimpton's OUT OF MY LEAGUE. And don't miss Candace's TAKE 5 blog post with Robert.