We're hooked on heroes: more summer romances with doctors, builders, pilots, and a spy.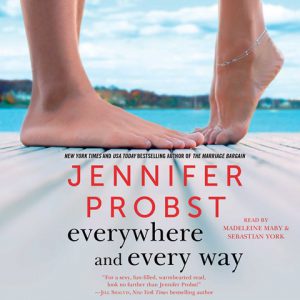 EVERYWHERE AND EVERY WAY: The Billionaire Builders, Book 1
by Jennifer Probst, read by Madeline Maby, Sebastian York
Simon & Schuster Audio
A construction project brings Caleb and Morgan together.

More Hunky Hero Listening Picks:
DIRTY: Dive Bar, Book 1
by Kylie Scott, read by Andi Arndt
Lydia's wedding day with Mr. Perfect goes south, so she takes a chance on a different kind of guy.
FLASH OF FIRE: Firehawks, Book 7
by M.L. Buchman, read by Carrington MacDuffie
Sparks fly between wildfire pilot Robin and her copilot, Mickey.
TROUBLEMAKER
by Linda Howard, read by Tanya Eby
Police chief Bo and her genius dog Tricks reluctantly shelter a government agent recovering from a gunshot wound.
WHAT WE FIND: Sullivan's Crossing, Book 1 
by Robyn Carr, read by Therese Plummer
After a work crisis, neurosurgeon Maggie retreats to her family's Colorado general store to lick her wounds.
Want to be sure your next audiobook is a hero?
Browse our newest romance reviews!