I'm not sure if I want to start a scandal, but after listening to Dare's latest, DO YOU WANT TO START A SCANDAL, I'm feeling the urge to go full-on backlist and listen to the entire Spindle Cove series from the beginning, thanks to narrator Carmen Rose. She strikes the right balance of aristocratic British courtship and a heroine with some more modern ideas of marriage as a partnership. Sneaky humor kept it from being formulaic — now I want to meet Dare's other heroines!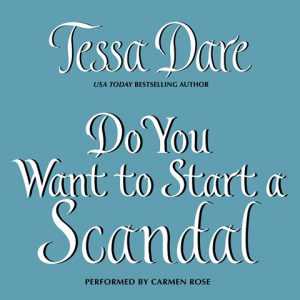 DO YOU WANT TO START A SCANDAL
Tessa Dare, read by Carmen Rose
HarperAudio

Browse other audiobooks narrated by Carmen – lucky for you, they are all historicals!