Narrator Samantha Cook's impressive range of voices and deadpan humor make this one holiday romance you won't forget.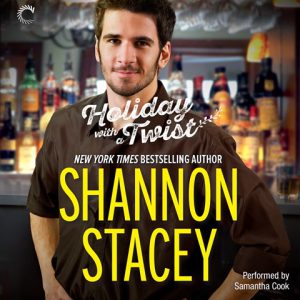 HOLIDAY WITH A TWIST
Shannon Stacey, Read by Samantha Cook
Harlequin Audio
For Leigh Holloway, returning home to Massachusetts for Christmas is epic bad timing. She lost her fiancé, quit her job (working with said fiancé), and now has to fake it for two weeks so her family doesn't suspect anything. Bartender Croy Dawson sympathizes and wouldn't mind taking their high school friendship to the next level. Narrator Samantha Cook plays up Leigh's family antics and gets listeners into the spirit for Christmas and romance. Listen to a sound clip and read my full review.
I would definitely listen to more Samantha Cook audiobooks. And not just over the holidays!