So there's this little-known (ahem) movie in theaters, something about 50 Blinds, or Shades. I've only seen the trailer on TV about 50 times . . . this week. Anyway, if you've read the books and seen the movies, you might be looking for your next addiction. If that's the case, we have a special treat for you, Audie Award Finalist MARRIAGE GAMES, the first book in The Games Duet. Thanks to a commanding performance by narrators Sebastian York and Elena Wolfe, MARRIAGE GAMES is a must-listen BDSM audiobook. Adam and Diana face a marriage derailed by indifference and kept on life support with revelations of hidden desires. The narration encloses the couple and the listener in a private negotiation which feels urgent and essential.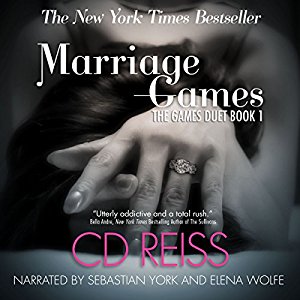 MARRIAGE GAMES
by CD Reiss, read by Elena Wolfe and Sebastian York
Flip City Media
AudioFile Earphones Award
Listen to a sound clip and read AudioFile's full review. And then be sure to queue up the second half of The Games Duet—MARRIAGE GAMES ends on a cliffhanger.
View more Audie Award Finalists in the Erotica category here.