High-quality merriment meets millennial romance, and narrators Amy McFadden and Nick Podehl rise to the challenge of Rachel Van Dyken's outlandish romantic romp.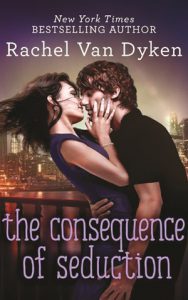 THE CONSEQUENCE OF SEDUCTION
by Rachel Van Dyken, read by Amy McFadden and Nick Podehl
Brilliance Audio
AudioFile Earphones Award
While Reid and Jordan pretend romance for a publicity stunt, Reid's certifiably insane family tortures him with bad advice and yes, yodeling. McFadden and Podehl must have shrugged and said – if you can't beat 'em, join 'em – because they show complete narrative buy-in to the mayhem. They egg each other on with silly delivery and random off-key singing. In a word: magical.
I'm officially adding this narrative combo to my "must enjoy as an audiobook" list. Add your Must Have the Audio selections in the comments below.