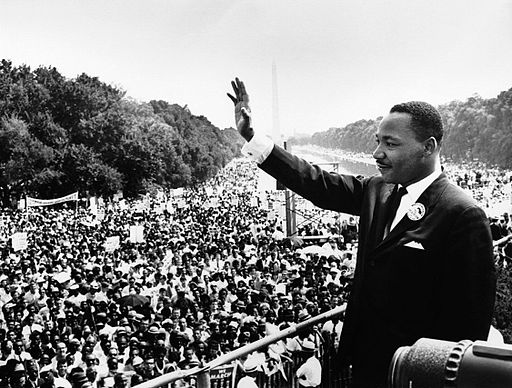 Twenty years ago, in February 1999, AudioFile published the review of THE AUTOBIOGRAPHY OF MARTIN LUTHER KING, JR. along with a feature by Maja Thomas, then the director of production of Time Warner AudioBooks.
February 1999
When I was growing up, I loved to explore the attics of the Victorian houses we lived in. They always contained something interesting and unexpected—a sheaf of impassioned letters, an old baby's pram with rusted springs, a steamer truck, empty, but still smelling of its exotic voyages.
As director of production for Time Warner AudioBooks, I again felt this thrilling sensation of discovery when I had the privilege of putting together the audio version of THE AUTOBIOGRAPHY OF MARTIN LUTHER KING, JR., from rare historic recordings.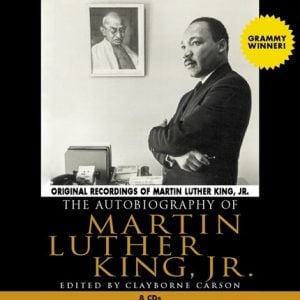 Every schoolchild knows that Martin Luther King, Jr., is one of the greatest orators of the twentieth century. But how many of us have heard more than a short fragment of the "I Have a Dream" speech? Even Clayborne Carson, who is the editor of the King Papers Project at Stanford, and the person responsible for compiling and editing the materials used in Warner Books' THE AUTOBIOGRAPHY OF MARTIN LUTHER KING, JR., had never heard some of the recordings we found to accompany his text.
During the process of organizing the vintage recordings, I listened to many extraordinary speeches, sermons, addresses and lectures, some of which had not been heard since the day they were delivered, over forty years ago. One important seven-minute fragment existed in only one place in the world, the Schomburg Center in New York City. I traveled there to obtain a copy of this unique recording, and when I finally held it in my hand, I felt like a nineteenth-century naturalist with a rare butterfly in my net.
However, much of the autobiography consists of King's writings, for which there are no recordings. To read these portions, we enlisted the talents of LeVar Burton, an eloquent actor with a deep understanding and sympathy for King's life and work.
We then merged the new Burton segments with the original King recordings and sought music appropriate to the subject and period. Fortunately, farsighted chroniclers of the Civil Rights struggle recorded many Freedom Singers during the mass meetings, marches and church services of the '60s. We licensed these to use as transitions between the chapters, and we also drew from original tapes of choir recordings made during Dr. King's church services.
Because there are more and better recordings of Dr. King's later years, the quality of the King excerpts improves in the second half of the program. The whole final hour of the program is King speaking and giving sermons about peace, human rights, and the moral purpose of man's life. Hearing King himself deliver his powerful messages is awe-inspiring: The depth of his learning and the persuasiveness of his logic are astonishing, his rhetorical fire is undimmed, and his sense of humor and humility are exemplary.
In the last address he gave, Dr. King said: "Like anybody, I would like to live a long life—longevity has its place. But I'm not concerned with that now. I just want to do God's will. And he's allowed me to go up to the mountain. And I've looked over, and I've seen the promised land. And I'm happy tonight. I'm not worried about anything. I'm not fearing any man. Mine eyes have seen the glory of the coming of the Lord." After the engineer and I put this fragment in the audio sequence, I told him that Dr. King had been killed only hours after speaking these words. For a few moments we both sat there quietly, tears in our eyes, unable to continue working.
Listen to this program and you will come to know a Martin Luther King, Jr., far greater than the icon with a dream. He is prophet of justice, a leader of tremendous will, a moral and spiritual defender of good. Exhumed from history, he speaks to us in these recordings today with the same force that inspired one of the greatest social revolutions of our time.
In the 20 years since Maja Thomas wrote the article above, she has grown and nurtured the audiobook program at Hachette Audio, the  successor to Time Warner Audiobooks, and is now Director of the Hachette Innovation Program.  "It makes me happy to remember this message from 20 years ago, and to remember that the truth and justice that King fought for are still to come in America, and must continue to rouse us to make this country a more equitable one." 
Thank you, Maja, for having the vision and dedication to have created such an important audiobook legacy.