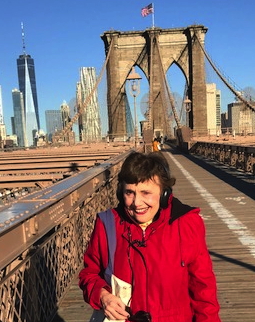 By way of introduction (and confession), I am a mystery and audiobook addict. Thus, it is an honor and a fright to take on the responsibility of the Solve blog, picking up from the great work of Jen Forbus.
People ask: "When do you have the time to listen?" Since I don't commute, there is no listening in the car.  The answer is:  I listen when I walk (and I get in my 10,000 steps every day). I listen when I load and unload the dishwasher, when I fold laundry and do any of my other dreaded housekeeping chores. Deeper confession—I listen when I can't sleep. I told you that I'm an audiobook addict.
Brooklyn is where I live; so, it's where I'll start. Listening to the description of a setting as you are walking through it in real time is thrilling.  Walter Mosley's latest, DOWN THE RIVER UNTO THE SEA, narrated by Dion Graham (winner of the Earphones Award), has me looking up, above the storefronts on Montague Street, for the offices of PI Joe King Oliver. Just like I do, Joe does a lot of his thinking while walking across the Brooklyn Bridge. That is actually where I do a lot of my listening.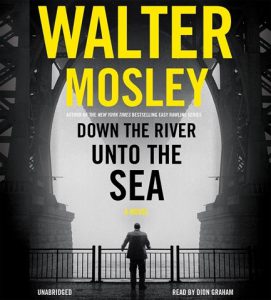 Jonathan Lethem's award-winning MOTHERLESS BROOKLYN captures my neighborhood as I knew it 20 years ago. In the latest audiobook version, narrator Geoffrey Cantor gives voice to the gritty diversity of Brooklyn, through the Tourette's-challenged mind of Lionel Essrog. Cantor provides a brilliant example of an audiobook that engages the listener beyond the mere words on a page.
Author Triss Stein takes on the histories and mysteries of different Brooklyn neighborhoods from Park Slope to the Brooklyn Navy Yards. The first in the Erica Donato series, BROOKLYN BONES, is read by Earphones Award winner Xe Sands. The third, BROOKLYN SECRETS (there is no audiobook of the second) is narrated by Elisabeth Rodgers, known for her narration of Iris Johansson's Eve Duncan series. This series is a great way for all to journey into present-day Brooklyn through history.
I'm looking forward to sharing more perspectives on my audiobook experiences as I do the dishes and look out my window to a view of the Brooklyn Bridge.