In our latest Behind the Mic, narrator Carrington MacDuffie shares her experience narrating WHAT ARE WE DOING HERE? Essays by Marilynne Robinson.
"The depth and passions with which Marilynne Robinson explores her subjects—primarily theology— inspired me throughout."—Narrator Carrington MacDuffie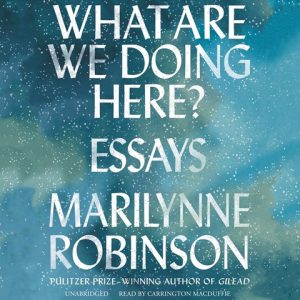 WHAT ARE WE DOING HERE?
by Marilynne Robinson
read by Carrington MacDuffie
Blackstone Audio
Carrington brings her vocal skills and narrative art to this remarkable collection of Robinson's 15 essays. The celebrated author of the 2005 Pulitzer Prize winner, GILEAD, and HOUSEKEEPING (1980) presents an array of cultural criticism—historical as well as current. Robinson's brilliance illuminates this audiobook, and she could have no better narrator than Carrington. Listen to a sound clip and read AudioFile's full review.
Explore more of Carrington's many audiobooks through her audiography that includes memoir and biography, contemporary culture, and fiction.