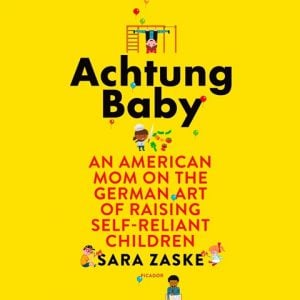 Most people I talk with have fond memories of the years they spent raising children. It felt great to love those little ones with such intensity and to feel that consuming sense of responsibility for their journey into adulthood. Now that I'm a grandparent, I can tell you it's even more fun when you're not the primary care provider and don't feel that pressure to do something when things aren't going well. My responsibilities now are to give unwanted advice to the parents and to hide my judgment when I see they're doing something "wrong." Two of the parenting audiobooks I listened to recently struck a chord with the part of me that misses being overprotecting and pushing my children to astounding achievements.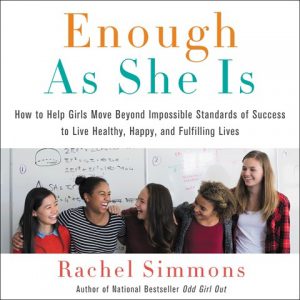 In her enlightening audio, ACHTUNG BABY, author Sara Zaske describes with appealing sensitivity the shock she felt upon moving to Germany and raising two small children in a culture where children go to day care early, learn from their mistakes, and are not overmanaged. To Americans it looks like neglect, but German children are turning out OK, no? The other audio that spoke to me was ENOUGH AS SHE IS, a gentle, well-organized reminder that pushing young women to achieve or compete is less important than creating space for them to discover for themselves what makes them feel alive and fulfilled.
These and the other parenting audiobooks below offer more than just advice, and that is the key to their being so powerful. With top-shelf readings that connect us to the authors' experiences and worldviews, they offer a satisfying immersion into ways of being a parent that can feel better—and work better— for parents and children.
More Listening for Confident Parenting
THE EMOTIONAL LIFE OF THE TODDLER
by Alicia F. Lieberman, read by Cassandra Campbell
Simon & Schuster Audio
AudioFile Earphones Award
A secure early attachment leads to competence and connectedness.
ACHTUNG BABY
by Sarah Zaske, read by Sara Zaske
Macmillan Audio
Keen observations about German and American parenting styles.
THE ART OF SCREEN TIME
by Anya Kamenetz, read by Anya Kamenetz
Hachette Audio
Insights into how screens impact kids' development and suggestions for handling ubiquitous devices.
ENOUGH AS SHE IS
by Rachel Simmons, read by Emily Durante
Harper Audio
A must-hear guide for anyone entrusted with the development of young women.
OFF THE CHARTS: The Hidden Lives and Lessons of American Child Prodigies
by Ann Hulbert, read by Kirsten Potter
Random House Audio / Books on Tape
AudioFile Earphones Award
What exceptional children can teach all of us about parenting.
NO MORE MEAN GIRLS
by Katie Hurley, read by Katie Hurley
Penguin Audio/Books on Tape
Inspiring stories of how girls can learn to express themselves and stand up for themselves and others.
THE GROWN-UP'S GUIDE TO TEENAGE HUMANS: How to Decode Their Behavior, Develop Unshakable Trust, and Raise a Respectable Adult
by Josh Shipp, read by Roger Wayne
Harper Audio
Learn the value of a competent, stable, and committed parent figure.
This post has been adapted from the original Learning By Ear column published in the April/May 2018 issue of AudioFile Magazine.