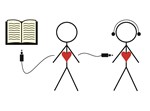 When a listener revels, "That narrator was outstanding," can you guess the one fundamental reason why? If you answer, "Outstanding narrators consistently bring the author's story and characters to life," you've got it. Conversely, when a frustrated listener laments, "Well, at least my insomnia was cured," what went fundamentally wrong? If you answer, "The story and its characters felt dead on arrival," you're right again. In my definition, an audiobook narrator must be a storyteller who, like an electrical wire with dual connectors, plugs into a book's story, brings that story, whether fiction or nonfiction, and including its characters, events, and ideas, to life, and connects that life to the listener.
To be sure, storytelling is a complex process that requires highly skilled and intuitive performers. That said, an advanced degree is not required to identify and explain, at its core, what makes great narrators compelling, and terrible narrators not. Here's how the best get it done–and why the worst leave listeners frustrated or bored.
Fiction
The best fiction narrators are skilled actors whose performance craft enables them to convince the audience they are listening to a real story, populated by believable characters, that is occurring right now! The fiction narrator's singular responsibility to you, the audience, can be summarized as: Magic Carpet Ride!
Compelling fiction storytellers whisk us inside the author's fantasy world, and whoooosh, we're off! Even though we intellectually know we're in bumper-to-bumper traffic, or knitting, we are willingly convinced by the storyteller that, no, we're actually on a speed boat in a foreign port, distancing ourselves from some very bad, bad guys.
And exactly how does the compelling narrator imbue the story with life? By believably replicating the feelings and emotions embedded in the fiction's events and characters. When we willingly believe we're in the midst of a torrid romance, we're in the presence of a compelling storyteller. The more the narrator involves us in the life of the story, the better the narrator. A memorable fiction narrator compels the listener to gush, "I was just so involved with the characters, and the plot, as if it was all happening this moment."
---
Great fiction narrator: We're plugged in, and whoosh! The magic carpet is flyin' high.
Terrible fiction narrator: We hear the words, yet we're uninvolved. The narrator isn't truly into the story's life, and neither are we. Lights out!
---
Nonfiction
The best nonfiction narrators are skilled actors whose performance craft enables them to believably excite the listener about the author's real story. (Later I'll explain why the skilled storyteller always narrates nonfiction better than the author.)
The nonfiction narrator's singular responsibility is to instill enthusiasm for the author's story, whether it's self-help, memoir, or "how-to." Generally, nonfiction tells us about something important to the audience, while fiction presents us with actable scenarios and characters. The nonfiction narrator tells us about George Washington. The fiction narrator performs our first president.
The nonfiction narrator is the author's surrogate, consistently encouraging our enthusiasm for the topic, whether it's the history of the Constitutional Convention, or how to live a happy life. The more compellingly the narrator solicits our enthusiasm, the better the narrator. A memorable nonfiction narrator can compel a listener to gush, "Wow! I just heard the most incredible description of how to polish my fingernails! Amazing!"
---
Great nonfiction narrator: Consistently ignites our enthusiasm for the author's story or ideas: Wow!!!!
Terrible nonfiction narrator: Makes us feel we're watching paint dry: Ugh! I couldn't care less!
---
And this brings me, briefly, to the concept of authors narrating their own books. That may seem to make intuitive sense, but knowing has nothing to do with acting or storytelling skill. Yet, publishers often prefer that an author narrate his/her book. If the expectation is that the author will perform better than a talented narrator (even one who can't possibly know the story like the author), someone's likely to be disappointed!
Authors generally do not make for compelling narrators because authors are trained to write while actors are trained to emotionally involve a listener. Trained storytellers plug into the authors' enthusiasm for their topics and connect those feelings to us listeners. Authors without storytelling training read the words. And just reading is, well, dull!
The most common misconception that audiences have about what makes a great narrator is the voice! Contrary to what many believe, the voice has no impact on great storytelling. Zilch! The voice is a sound-delivery system that cannot connect you to emotions because the voice cannot act. The voice has no heart, no soul, no passion, and it's those sentient narrator-qualities, not how groovy the words sound, that bring an author's story to life!
Paul Alan Ruben has amassed countless industry awards during his two-decade career as an audiobook producer/director, including two Best Spoken Word Grammy Awards. He teaches and coaches emerging and professional narrators in New York and around the country. His blog (Paul-Alan-Ruben.com) focuses on craft and related issues that concern audiobook narrators. He is also a writer of literary fiction whose latest published short story will be recorded by George Guidall.
This AudiOpinion has been edited from its original longer form in the print issue of AudioFile Magazine, February/March 2016.
© AudioFile 2016, Portland, Maine