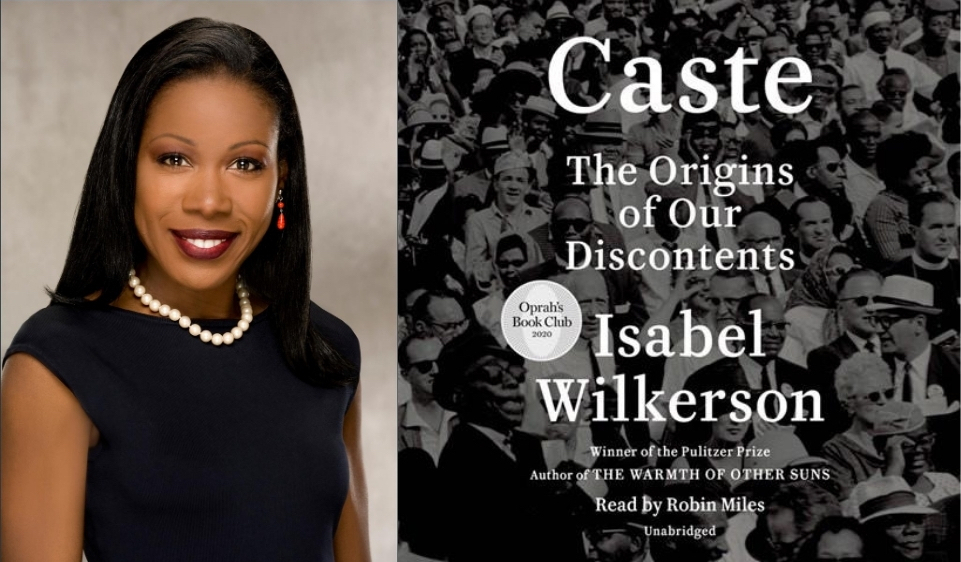 Pulitzer Prize-winning writer Isabel Wilkerson's powerful new work of nonfiction, CASTE: The Origins of Our Discontents, examines how caste, or a hereditary class system, underlies the oppression of Black people and other people of color in America. Racism certainly exists, she posits, but the country's caste system, developed in Colonial Virginia to differentiate indentured immigrants from African slaves, is the root of the problem. A caste system permanently empowers those in the top group and permanently dehumanizes those at the bottom, setting them forever apart as "other." It explains why President Andrew Jackson felt fine about his horse's reins made from the flesh of American Indians. It explains why a white guest at a party full of liberals assumed that a Black man they didn't know was a server who would get them a drink. The Black man was then Senator Barack Obama.
Wilkerson, a former New York Times journalist, who is Black, blends deeply researched history about the caste systems in the United States, Nazi Germany, and India—the birthplace of caste—with personal anecdotes that are as eye-opening as the history is wrenching. So, we meet the white male store owner in New York who not so long ago ushered her out of his shop, believing that a Black female reporter couldn't possibly be the "important New York Times journalist" for whom he was waiting. We read the lynching postcards of nineteenth-century America. "This is the barbeque we had last night," one fellow wrote to his mother on the back of a photograph of a mutilated and charred Black corpse. We learn that early Nazi officials visited America's Jim Crow South to study its race laws. Ultimately, the party that engineered the death of 6 million Jewish people in concentration camps decided that U.S. race laws went too far by defining someone as Black if they had even "one drop" of Black ancestry. However, Hitler complimented the United States on its "knack for maintaining an air of robust innocence in the wake of mass death."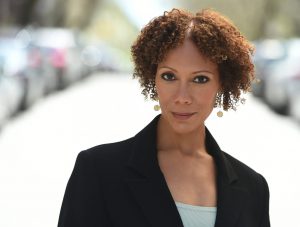 Narrator Robin Miles's Earphones Award-winning performance, featuring an even-tempered, thoughtful pacing and a comforting voice, is essential to the listening experience. It helps us survive the ugly history; roll our eyes, groan, and occasionally scream in response to the personal anecdotes; and then take a deep breath and consider the implications for solving the problem of America's original sin.
Miles says that narrating the book was an emotional experience. "Encountering material like this is like walking into the ocean when the tide is coming in," she says. "You have to figure out a way not to be knocked over. I did have to stop several times because I became overwhelmed. You can't get through the Nazi Germany chapters or the deeply depraved and terror-laden chapters in the American South without being stopped cold in your tracks. So, I would pause and gather myself. As a narrator, you can't be leaking your emotions all over the place. If I'm having all the emotions, I rob the listeners of the ability to have their own. It requires self-control."
Interestingly, Miles has made CASTE required reading for a Pace University course she is teaching on diversity and equity in American entertainment. "What's so brilliant is how Wilkerson goes back and forth between facts backed up by research, and her own and other people's lived experience," she says. "The lived experience is corroborated by data, which makes it a perfect vehicle for robust and meaningful class discussion."
Wilkerson, who in addition to the Pulitzer Prize, has received the George Polk Award and the National Book Critics Circle Award, among others, is also the author of THE WARMTH OF OTHER SUNS, about the routes used by Black Americans who left the South to move north in the 1900s. As with CASTE, the book is illuminated by the personal stories of individuals who made the trip. It is also narrated by Robin Miles, who won an Earphones Award for her performance.
Isabel Wilkerson photo by Joe Henson, Robin Miles photo by Jordan Matter