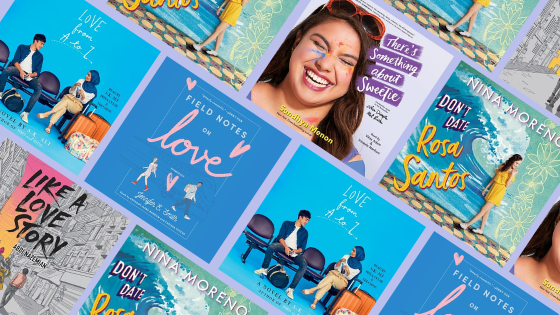 I've heard it said that, no matter your age, young adult books have something to offer you—whether you are yourself a young adult, you recommend audiobooks to teens, or you're just a fan of YA audio. If you're a teen, you may be listening for confirmation of your own experiences, or to step into someone else's life for a moment. You're also seeing how other people your age handle life problems and questions about growing up. After all, how many of us wish we had clever repartee—modeled after our favorite book characters—at the ready? For older listeners, we're looking back and remembering, fondly or fearfully, our younger selves and measuring our pasts against the person we are now. After all, as Prudie says in The Jane Austen Book Club movie, "High school's never over."
I've collected five truly remarkable new young adult audiobooks. All romances—yay! And, whether your young adult reading experience began with Judy Blume's FOREVER, Nancy Garden's ANNIE ON MY MIND, John Green's THE FAULT IN OUR STARS, or Sarah Maas's COURT OF THORN AND ROSES, you'll love reconnecting with the genre through these stellar audiobooks.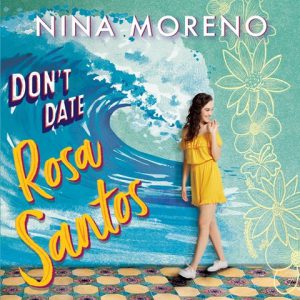 DON'T DATE ROSA SANTOS
by Nina Moreno, read by Almarie Guerra
Dreamscape
Okay, as if being a teenager weren't hard enough, let's add "cursed" to the list of adjectives Rosa Santos gets saddled with. Just because two relatives had tragic accents at sea, Rosa's warned to stay single and stay away from the water—until she meets Alex who bakes Cuban pastries . . . and owns a boat. Rosa has her plans all figured out, including studying at the University of Havana to reconnect with family history, but her unexpected romance throws her—and her family—a curveball.
Switching smoothly between English and Spanish, Almarie Guerra narrates with down-to-earth sweetness in this beachside (but not too close to the water!) romance. And she's delightfully off kilter as she blends embarrassment with attraction in Rosa's meetings with Alex. Guerra gives a vibrant cast of secondary characters equal care in her narration. And don't you love the cover?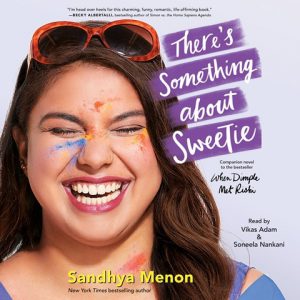 THERE'S SOMETHING ABOUT SWEETIE
by Sandhya Menon, read by Vikas Adam, Soneela Nankani
Simon & Schuster Audio
AudioFile Earphones Award
Dating, parental pressure, and body image issues fill this teen audio charmer. Ashish is the uber-cool high school cutie, basketball star, etc., until he gets dumped by his girlfriend and falls back on his parents' more traditional offer to set him up on a date with an Indian American girl. Ashish's parents ask Sweetie Nair's parents to enter into a four-date contract, but they refuse because they feel she's "too fat." (Grrrr . . . .) Sweetie decides enough is enough and goes behind her parents' back to secretly accept the dates. And you know how it goes from there . . . or do you?
Authentic narration blends family culture with Ashish and Sweetie's independent decisions. Narrator Vikas Adam shows Ashish's growth as he gets to know Sweetie, while Soneela Nankani balances Sweetie's desire for respect with her family's various points of view. A grand audio sequel to WHEN DIMPLE MET RISHI.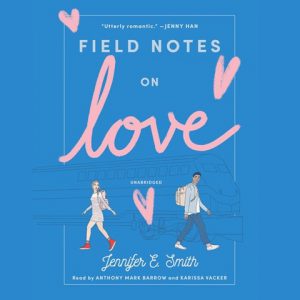 FIELD NOTES ON LOVE
by Jennifer E. Smith, read by Anthony Mark Barrow, Karissa Vacker
Penguin Audio
Narrators Anthony Mark Barrow and Karissa Vacker provide a dual-voiced narration of Hugo and Mae's unlikely romance. Hugo, a sextuplet sibling, has nonrefundable train tickets in his and his ex-girlfriend's name, so he advertises for another Margaret Campbell to join his U.S. cross-country train trip. Vacker portrays Mae's artistic way of viewing her surroundings, while Barrow uses an appropriate British accent for Hugo. Secondary characters, including Mae's and Hugo's relatives, as well as train passengers, round out a fun conceit. If summer travel speaks to you, this romance-on-the-rails audiobook will fit the bill.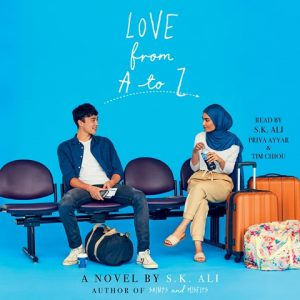 LOVE FROM A TO Z
By S.K. Ali, read by Priya Ayyar, Tim Chiou, S.K. Ali
Simon & Schuster Audio
Earphones Award Winner
Another dual voiced narration features two Muslim teens, Zayneb from Indiana and Adam from Canada, who meet on a flight to Doha, Qatar. Both are running—Zayneb from a confrontation with a teacher and Adam from some shocking news. Their reactions to their emotional and religious experiences challenge their new relationship. Ayyar uses an edgy, youthful voice that captures Zayneb's independent spirit, while Chiou connects with Adam's sadness and fear. A thought-provoking romance in which weighty elements and realistic young protagonists are enhanced by excellent narration.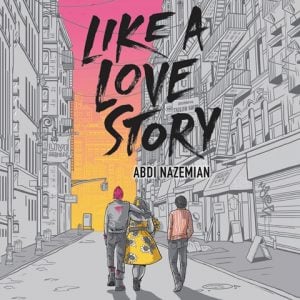 LIKE A LOVE STORY
by Abdi Nazemian, read by Lauren Ambrose, Michael Crouch, Vikas Adam
Harper Audio
Nazemian returns to the AIDS epidemic of the 1980s in New York City with the stories of three teenagers: Judy, Art, and Reza. Adam portrays Reza, an Iranian-born teen who struggles with his homosexual identity. Judy and Art, voiced by Ambrose and Crouch, are best friends with a shared interest in HIV/AIDS activism and who begin dating, despite Art and Reza's attraction. Alternating narration chronicles the specific events of this memorable time in U.S. history as well as the personal struggles of the main characters. Judy's teen quips and Reza's pained musings are all well delivered.