Talking with Bill Pronzini & Nick Sullivan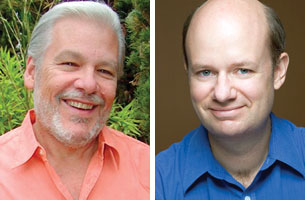 Narrator Nick Sullivan interviews author Bill Pronzini about his work. Sullivan has narrated 17 of Pronzini's novels.
N.S.: I've been narrating your books since 1998, beginning with ILLUSIONS. How did the "Nameless" series start? And when you began, did you intend Nameless to be nameless? Or is that something that came to you while writing the first book?
B.P.: The series started in 1968 with a short story called "It's a Lousy World." The first "Nameless" novel, THE SNATCH, was published in 1971. Some people have suggested that I made the character nameless as an homage to Hammett's Continental Op, but while I greatly admire the Op stories, that isn't the case. Like me, Nameless is a big Italian guy, and every name I came up with didn't seem to suit him, probably because he's essentially me, and it would have been like trying to rename myself. Lee Wright, the Random House editor who bought THE SNATCH, said that if I was going to do more novels about the character, I really needed to provide him with a name, but she couldn't think of a suitable one either. It was she who came up with the "Nameless Detective" tag.
N.S.: The character known as Nameless is a collector of vintage pulp crime magazines. Is this a hobby that he shares with you?
B.P.: Absolutely. I've been collecting pulp magazines since my early 20s and now own about half as many as Nameless--around 3,000 or so, mostly mystery/detective.
N.S.: I remember when Nameless first got a name--someone called him "Bill" in BOOBYTRAP. Why did you decide to name Nameless?
B.P.: Well, actually I've only half-named him. It's just Bill, no surname. The first mention of him as Bill was just a "slip-in," appropriate to the scene in which it appears. The reason I began using it more frequently is that when I finished BLEEDERS several years ago, I was afraid I'd burned out on the series--that I couldn't keep writing first-person novels about a PI who was 60-something and starting to burn out himself. The only way I could continue, I decided, was to change the format: have him semi-retire; make his young protégé, Tamara, a full partner in his agency; bring in a new, younger operative, Jake Runyon, to handle the more physical cases; and alter the narrative style to a combination of first-person from his point of view and third-person from the other characters' points of view. The new format allows me to delve more deeply into the other characters' lives, both personally and professionally, as well as the lives of some of the individuals the agency deals with. It also allows for what I hope are more complex stories that help keep the series fresh.
N.S.: The city of San Francisco is almost a character itself in your Nameless series. Do you find inspirations for your writing in the city you know so well?
B.P.: I no longer live in San Francisco but in a town fairly close by, so I have to make a conscious effort to keep up with the various physical, sociological, and political changes in order to realistically portray the city. The same is true of the many other Bay Area, northern California, and central California settings utilized in the Nameless series. Whenever possible, I travel to the various locales for on-the-spot research.
N.S.: Many good mysteries have a twist in them. Have you ever written a book with a particular twist in mind and then, nearing the end, decided to add another layer of complexity--switched the "who" in a whodunit?
B.P.: Oh, yes. I'm a character-driven writer, which is to say I seldom know how a novel will progress, much less end, when I begin writing it. I start with a group of individuals, toss them together with a basic premise or theme, and let the story develop from who and what they are and their relationships with one another. In one book I thought I had the murderer and his motives pegged, but the character turned out so likable as he developed that I made another one the villain instead.
N.S.: A few years ago I had the pleasure of recording THE OTHER SIDE OF SILENCE. What led you to depart the Nameless world for this title?
B.P.: I've produced quite a few stand-alone novels, as a matter of fact, the most recent, THE HIDDEN, was published this year. There are some ideas that lend themselves better to nonseries books than to detective fiction, for one thing. For another, suspense novels allow me to pursue an obsessive theme of mine: weak, damaged, and/or haunted men and women at a crisis point in their lives who become embroiled in extraordinary circumstances that either redeem or ultimately destroy them. And for a third reason, I like taking risks and challenging myself with different types of stories. My goal has always been to be a better writer tomorrow than I am today.
N.S.: You're married to the writer Marcia Muller, and I understand you've collaborated on several novels. What is it like writing with Marcia?
B.P.: A pleasure for many reasons. In addition to writing together from time to time, we generally function as each other's in-house editor: reading works in progress, discussing plots, working out problems, and occasionally doing a little revising of each other's prose. Marcia is also a character-driven writer, and we approach our fiction in pretty much the same way, so our collaborative novels and stories have generally been an effortless pleasure. People sometimes ask us if we're competitive. Nope. Neither of us is burdened with a big ego; one's successes (and failures) are shared by the other.
N.S.: Marcia and Kerry from the Nameless series--any connections?
B.P.: In the beginning, no. HOODWINK, the novel in which Kerry is introduced, was published the same year, 1981, that Marcia and I got together. But as the series and our relationship progressed, Kerry naturally took on quite a bit of Marcia's personality. She's not Marcia in the same alter-ego fashion that Nameless is me but close enough.
N.S.: Do you listen to audiobooks yourself? What do you think of the medium?
B.P.: It's a wonderful medium. Great for book lovers because you can listen to audio anywhere at pretty much any convenient time, and great for writers because it substantially widens our readership. Marcia and I regularly listen to audio- books on airplane flights, research and other driving trips, and while relaxing at our cottage on the north coast. Not so much at home, but that's because we're both voracious readers, and I'm also an avid collector of books and magazines. Our house fairly creaks with more than 25,000 volumes.
OCT/NOV 10
© AudioFile 2010, Portland, Maine

Photo © Robin Reese