Talking with Jonathan And Faye Kellerman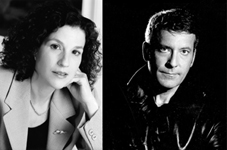 One might imagine, at first blush, that there's a cottage industry a-plying its trade in the comfortable Beverly Hills home of Faye and Jonathan Kellerman (and their four children)—two of the better-known and more successful current mystery writers.
But no. With more than three decades of storytelling between them (and nearly thirty years of marriage), they're independent souls to the fullest extent, with separate workspaces and different publishers and agents. They lunch together three or four times a week (not counting weekends), but they don't exchange plots or the intricacies of their respective mindsets.
But they root like hell for each other.
Jonathan is a clinical psychologist by training, who incorporates his expertise in his phenomenally popular Alex Delaware thrillers, centered on a child psychologist turned detective who finds himself involved in the tawdriest of situations. (Alex's girlfriend describes him, in the recent novel Flesh and Blood, as "a magnet for ugliness.") Jonathan is also the author of a couple of children's books and a nonfiction study of youthful psychopathy (Savage Spawn). Faye is a dental school graduate who spurned that field in favor of writing, mostly—as it turned out—about Rina Decker, a young widow now married to a Los Angeles police chief. More than police procedurals, Faye's books are rooted in contemporary Orthodox Jewish society and mores, mirroring the Kellerman family's own milieu and practice. Only one of Jonathan's books, The Butcher's Theater, entered on a serial killer in Jerusalem, incorporates an overtly Jewish theme.
In abridged and unabridged audio treatments, the Kellerman novels are vastly appealing to their readers and listeners alike. And those listeners can turn up anywhere. Jonathan recalls his first visit to a certain orthopedist for a sports injury. "He saw my name and said, 'Every morning I jog four miles. It's boring as hell. But I listen to all your audiobooks. I want to keep you healthy!'"
In terms of the production of the audiobooks, the two play minimal roles. Jonathan prefers what he terms "a laissez-faire" approach. "The publishers always approach the material with respect, even when they're abridging my 500 to 600-page manuscript by as much as 75 percent. They send the script to me, and I review it. I make suggestions, which they always take, but there are very few. It's been a uniformly positive experience." Faye also prefers a relationship of trust with audio publishers. "I have a very busy life and can't micromanage every portion of my career. They do show me the script of the abridged version; I rarely go over it. And I rarely say anything, and I rarely make changes. Frankly, I think they probably know what's best."
Like many authors, the Kellermans don't listen to their own works. "I've never heard a complete tape of mine," says Jonathan. "I know my story! I've listened to snippets. When the producers told me they'd decided to hire John Rubinstein, I said, 'Fine.' I knew his work in theater. And he's been doing it ever since, which I think brings a sense of consistency to the books. If it ain't broke, don't fix it. The producer wanted someone different only for The Butcher's Theater, because it's a different type of book. Ben Kingsley was too good—marvelous. He just scared the hell out of me!" Faye adds, "People who've heard my books—I haven't—say the different readers [Jay O. Sanders and Dennis Boutsikaris, among others] do a very good job. I prefer having a man reading my books because they're mysteries, crime novels, and I would prefer to have that emphasized [rather than the character of Rina]. Actually, I'm writing something now that a woman might want to read. But we'll figure that out when the time comes. Stone Kiss [her forthcoming novel] is definitely a macho book."
Does either of the writers secretly dream of taking over as narrator? "Never!" says Jonathan. "I stick with what I know. It's all I can do to write it. I write books, I play the guitar, I paint. That's about it." Faye agrees. "I'll leave it up to the professionals."—Michael J. Bandler
APR/MAY02
Photo © Jonathan Exley