Talking with Laura Hillenbrand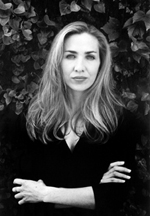 Laura Hillenbrand, author of SEABISCUIT: AN AMERICAN LEGEND (Random House), the enthralling new bestseller evoking the spirit of a previously untapped episode of this nation's social history, is endlessly dependent on audiobooks in her life. (More on that later.) So she had more than a passing interest in her publisher's plans for the spoken word version of her saga about the undersized, crooked-legged, mud-colored horse that—together with an owner, trainer, and jockey—produced the unlikely triumphs that captured people's imagination in Depression-era America.
"My inclination is that when you hear any book in an audio version, it might play out in a more visual way in your head than it does when you read it," says the soft-spoken author. "And this is a very visual story." Seated on a straight-backed chair in the living room of her row house on the western fringe of Washington, D.C.'s, Georgetown neighborhood, Hillenbrand traces the path of her project from book to cassette. "My publisher passed the whole manuscript to the audio people, who abridged it and mailed it back to me. I went through it. There were some continuity flaws, so we had to put some material back. But in general, they did a very good job.
"They asked me if I wanted a man or a woman to read it. I've always felt this is a muscular story, and it needed a man. Actually, I was trying to write it with a male voice. I didn't want to get too sentimental—you can easily stray into sappy sentimentality with this story. It has everything in it that could be kind of corny if it's told the wrong way. And having done so many interviews with elderly men from a tough generation, I kinda started thinking the story in their words. So I wanted a man." The publisher came up with Campbell Scott, the gifted actor and director who's played a range of roles from Hamlet to Robert Benchley. He's also possessed of enviable genes—being the son of the late actors George C. Scott and Colleen Dewhurst.
The manuscript was abridged by two-thirds. But when Hillenbrand heard the results, she thought, "That's plenty—just the way it is." As delighted as she is with the final product, two sections stand out for her. First, there are the book's arresting opening paragraphs—in which the author sets the scene and introduces her audience to the times, citing statistics as to the degree to which SEABISCUIT'S amazing appeal permeated aspects of American life between 1936 and 1940. "It just comes out of [Scott] like it was coming out of my head while I was writing," Hillenbrand marvels. "That's a very satisfying feeling—to know that the voice in your head and the voice who's reading it are the same. And the 1937 Santa Anita Handicap—where Red Pollard, the jockey, messed up and the horse lost by a nose—that's a special section. Campbell Scott read that re-e-e-a-l-l-y well."
The history she unearthed through four years of research and writing is brought to life largely through her interviews with men from the racing community—now in their 80s and 90s— even one 100-year-old gent. So she wanted her tale "to have the feeling of old men sitting around a campfire, telling the story. I wanted it to have an oral feel, a conversational feel, to it, because that's the way it came to me."
This is one book—about one horse—that has "legs." A writer is feverishly working on the movie script for Universal Studios. A public broadcasting documentary program is in the works, and Hillenbrand even is mulling over the notion of adapting her material for a children's book for the 9-12 set (Seabiscuit's career, she strongly believes, was the impetus or model for Walter Farley's 1941 novel, The Black Stallion). "I think underdog stories are appealing in any generation, and this one was especially appealing in the Depression." Clearly, that's why the 1930s public seized every detail it could about Seabiscuit's trek to glory as it ran its course.
Speaking of underdog stories, there's another one in that Georgetown row house: Hillenbrand herself. The reason she is so dependent on audiobooks—stacks of which line the windowsill facing the leafy street—is that for the past 14 years, she has suffered from chronic fatigue syndrome. "I have a vision problem, and vertigo, and reading is difficult," she explains. "Since I finished the book, it's been much, much worse." Still, she adds, at some point months after being stricken by CFS during her sophomore year at Kenyon College (she never returned), she realized that she couldn't allow the debilitating illness to defeat her—that she had to fight to make something of her life.
With Seabiscuit: An American Legend, she has.—Michael J. Bandler
AUG/SEP 01
© AudioFile 2001, Portland, Maine