Talking with Stephen King & Stewart O'Nan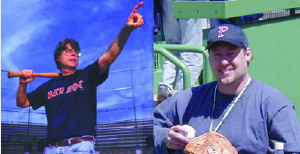 Stephen King's friendship with Stewart O'Nan was born out of a literary dispute. Nine years ago, O'Nan wanted to title his third novel DEAR STEPHEN KING.
King says, "I loved the book, hated the title. I felt he was using me."
Eventually, O'Nan dropped King's name from the novel. He says he came to realize how many people want a piece of King. "It's a level of celebrity I wouldn't wish on anyone."
The two writers also discovered a mutual obsession with the Boston Red Sox. "Baseball made us friends," King says. From his home in Bangor, Maine, in the northern reaches of Red Sox Nation, King began exchanging emails about the Sox with O'Nan, who lives near Hartford, Connecticut, which, he says, is "right on the Mason-Dixon line of the Red Sox-Yankees rivalry."
In the summer and fall of 2003, when the Red Sox fell short once again, the email with King grew into what O'Nan calls "sort of a pennant race journal," which gave him the idea for a book. "I envisioned an inside look at being a Red Sox fan, not an insider's look at the Sox—any beat reporter could do that one better than we could." He and King would share a "regular Sox-filled summer."
More than a year ago, 86 years after the Red Sox won their last world championship, King and O'Nan began keeping baseball diaries and exchanging emails. Their hopes were "both impossibly high and cautiously guarded," O'Nan wrote during spring training. "Because as much as we loved them, the Sox had broken our hearts over and over, and that probably wouldn't change."
It did, of course. The Red Sox staged an unprecedented comeback against their age-old nemesis, the New York Yankees, and went on to win their first World Series since 1918.
King and O'Nan's book, FAITHFUL: TWO DIEHARD BOSTON RED SOX FANS CHRONICLE THE HISTORIC 2004 SEASON, was published by Scribner in late November and quickly became a bestseller. "As far as writers go, Stewart and I were the two luckiest sons of bitches alive," King says. "Events conspired to even make it an uplifting book. . . . Thanks to the Red Sox, it even has a beginning, a middle, and an end!" The unabridged audio, with Adam Grupper reading O'Nan's words and Ron McLarty reading King's, was released by Simon & Schuster Audio.
King hasn't listened to the audio yet but says, "McLarty's got the perfect audio voice. It merges itself with whatever the subject happens to be." The two have a history. McLarty has narrated some of King's work. King praised the audio of McLarty's novel, The Memory of Running, read by the author before he could find a print publisher. King's praise helped McLarty land a lavish book deal with Viking.
King says he loves audiobooks. "They're the equivalent of a full-body immersion. You get every word, and you can't cheat and peek ahead. You also get the music of the prose if the writer's well about his business . . . and if the writer ain't well about his business, audio exposes him/her in pretty short order. The spoken word is merciless when it comes to the tin-eared writer."
Lately, King has been listening to Mark Winegardner's THE GODFATHER RETURNS. "While Scott Brick isn't my favorite narrator (that would be Patrick Tull, I think, or George Guidall), what comes through on audio is how Winegardner caught Mario Puzo's ballsy, folksy, openly vulgar narrative style. Audiobooks are a blast."
O'Nan comments, "I find it strange to hear another voice speaking your words, especially when it's your own voice you're using in the book, rather than a narrator's or character's voice in a novel. The inflections are different, the stresses, the emotional tone. It's impossible to match your own voice in your head."
O'Nan doesn't listen to many audiobooks. "But I love the old spoken-word records, those old Caedmon recordings of Eliot, Faulkner, Gertrude Stein, etc., especially when I'm driving. I like when the author reads his or her own words, so you get a better sense of the rhythms and emotions—like Faulkner. On the page he seems heavy and convoluted, clotted even, but then he reads a passage from OLD MAN in this light, skipping voice—it's like a squirrel scooting along the top of a fence—and it changes the way you see and feel his work as a whole."
King and O'Nan have no plans for another baseball book. "There'll never be another season like it,'' King says. He adds, "I think that Stewart and I should do a nonfiction book on the 2008 presidential race."
To which O'Nan adds, "New Hampshire, here we come!"—Bob Minzesheimer
APR/ MAY 05
© AudioFile 2005, Portland, Maine