Talking with Tana French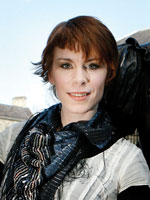 Tana French appeared on the mystery scene quietly, but in a short time her novels have taken the literary crime world by storm. Like a pint of Guinness, with nothing "lite" about it, her writing gives off a crisp flavor and a full body that leaves the reader satisfied to the final sip. Her debut novel, IN THE WOODS (2007), won the Edgar, Macavity, and Anthony awards for Best First Novel. Each of her three novels has received universal praise.
French, who is actually American, lives with her husband and daughter in Dublin, studied theater at Trinity College in Dublin and has worked in theater, film, and voice-over. "I think I'm lucky that I came to writing from acting," she says. "It means I spent years learning how to bring imaginary characters to life--how to make a character become a complicated three-dimensional person, how to bring an audience into his or her world, and how to offer the audience a story and an emotional journey through that character's eyes. Writing--at least, writing in the first person, like I do--has a lot in common with acting."
French's three novels don't constitute a series as much as three stand-alone thrillers with overlapping characters. Detective Cassie Maddox, who has a supporting role in French's first novel, In the Woods, is the lead character and narrator in THE LIKENESS (2008). Frank Mackey, the narrator/hero of FAITHFUL PLACE (2010), has a smaller role in THE LIKENESS.
Stories and storytelling have always been part of Tana French's world. She grew up hearing her parents tell stories, and she's also been listening to audiobooks since she was a child. "When I was 10, I had bronchitis, and while I was convalescing, my parents had to find ways to keep a very active kid occupied indoors--and this was in Malawi, where there was no TV and the supply of books was pretty limited. My mother lent me her Walkman and found some recordings of Shakespeare comedies in the library. I didn't know I was supposed to be intimidated by Shakespeare or that he was supposed to be highbrow. All I knew was that these were wild, magical, vivid stories. It didn't even matter that I didn't understand a lot of the words. The actors brought the text leaping off the page, so I got the gist of it even if I missed the details."
In spite of her background in acting, French says she's never considered narrating one of her own novels. "I think another actor will always bring something to the books that I can't. That outside perspective plays an incredibly important part in bringing the book to life. A good actor will find things in the book, and in the characters, that I didn't even know were there."
Since each of French's novels is narrated by a different character, three different actors--Steven Crossley, Heather O'Neill, and Tim Gerard Reynolds--have read her three books. In each case, she's been pleased with the choice. "Each time I've been sent audition samples to listen to, there's been an instant 'THAT'S HIM!' (Or, in Heather's case, 'THAT'S HER!') Great audiobook actors--and I think my books have been very lucky there--make you feel like you were writing for this person all along."
Each of French's books has presented unique challenges for the narrator. In the case of IN THE WOODS, she cites the syntax. "It's full of loooong, complex sentences that include multiple clauses and digressions within dashes and lists and . . . When I looked at it from the perspective of a narrator, I cringed. I was blown away by how deftly and fluently Steven Crossley dealt with all those tangles."
French is currently finishing a fourth novel. "Scorcher Kennedy, who shows up in FAITHFUL PLACE as Frank's old friend/rival/nemesis, is the narrator this time."
What is the book about? "Ireland's full of ghost estates that were left half-built when the recession hit. On one of those, a family has been killed. Some of the evidence points to an intruder who had been stalking them for months, but some of it points to something very strange going on inside the house, and Scorcher has to work out whether the real danger was inside or outside the walls."--Steven E. Steinbock
OCT/NOV 10
© AudioFile 2010, Portland, Maine

Photo © Kryan O'Brien