AudioFile Lobsterbake
Join us for AudioFile Narrators Lobsterbake.
Make your plans for Saturday, July 15, 2023

Celebrating AudioFile's 31th year!! — join us for a day on the rocky coast in East Boothbay, Maine. We celebrate the creative spirit of audiobooks with conversation, good friends, and an amazing Lobsterbake.
12:00 Plan to join us anytime after noon, for conversation, swimming, boating or just sitting on the lawn at Robin's Tidesong cottage.
Tidesong cottage is in EAST Boothbay (see directions below)
3:00 PM We begin serving. The lobsters will be cooked right on the beach at Tidesong, and timing may vary!
5:00 PM Stories on the lawn, or around the fire.
Spouses, guests and families are welcome.
Email or call for help with details, [email protected] or call us at the AudioFile office, 207-774-7563. Please RSVP by July 10, 2023 as we need to count the number of lobsters to cook. If you want to request non-shellfish (salads, corn, et al.) option, please also send an email to [email protected] with your name & preference.
Cost is $50 per person all inclusive.
Payment options:
Check: AudioFile/ Lobsterfest 2022, 37 Silver St. Portland ME 04101
Credit card: secure SERV-U form or by calling 207-774-7563 during regular business hours.
PayPal: use email: [email protected]
Tidesong Cottage is at 136 Murray Hill Rd., East Boothbay, phone 207-233-4865. Parking is challenging--look for signs at green boat shed on Murray Hill Rd. Then just a short walk to the cottage. Or, drop off at cottage, and park back at the boat shed.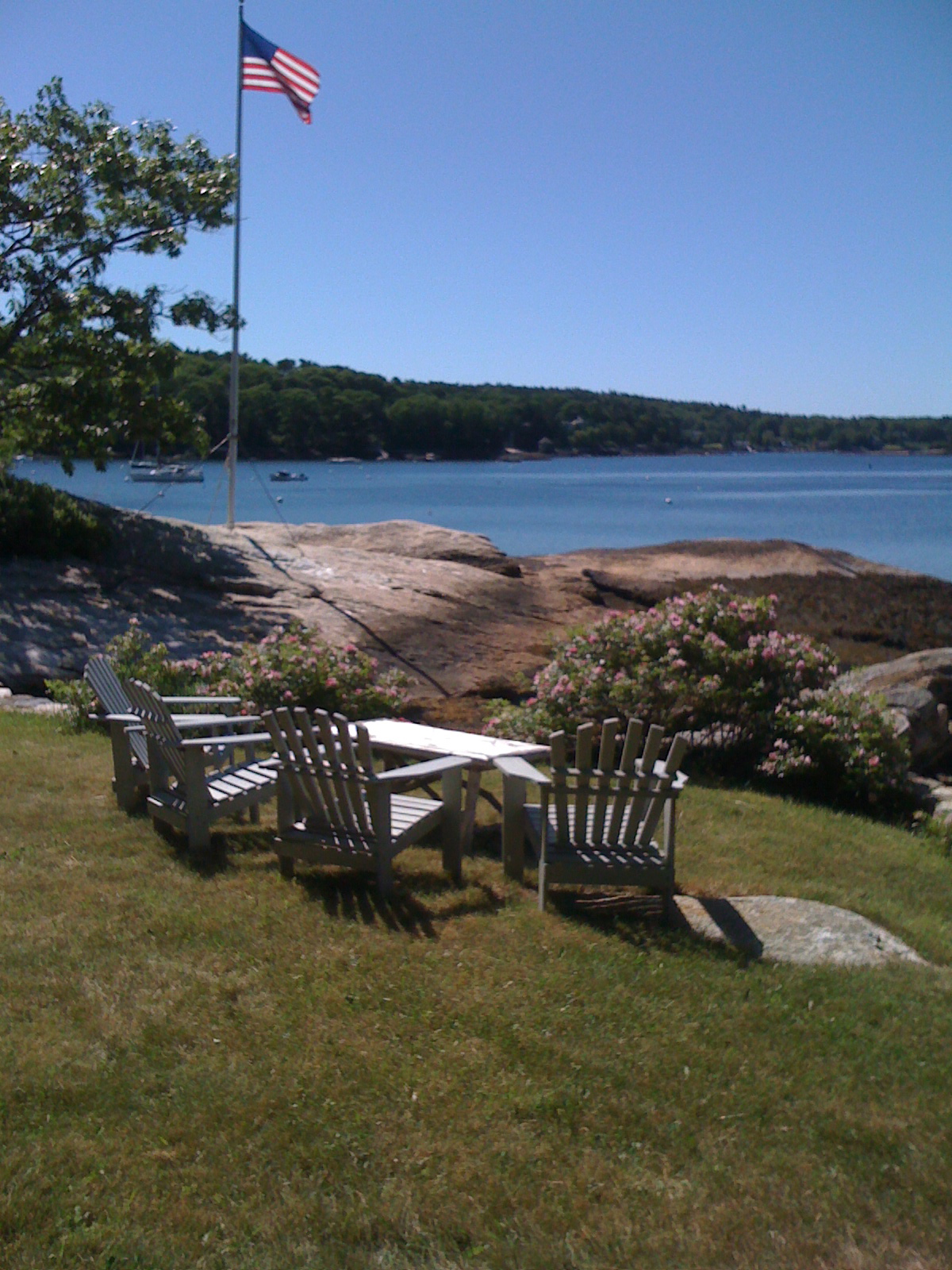 Travel and Hotel Logistics
July is high season in Maine, best to make your plans as soon as possible. This is a particularly busy weekend in Portland. Airports: Portland (PWM) Airport, flights here are the easiest but hard to get in July. Boston (BOS) is a 2 hr. drive, as is Manchester, NH (MHT) airport. A car is absolutely necessary to get to Boothbay. There are cabs & hirecars to Boothbay, but NO Uber in Boothbay. Concord Coach. has a DIRECT bus from Manhattan to Portland, it's comfortable & dependable, we are big fans. Also Boston to Portland direct/non-stop bus is excellent. All the car rental agencies are at the Portland Airport (PWM).
Boothbay is "down" the coast as we say (but, up the coast on a map), from Portland. Midday on a Saturday in July, plan on a 2-hour drive from Portland, because of summer traffic--take me seriously, and start early, leaving yourself time to enjoy our beautiful spot! Earlier or later in the day, it is more like 1 1/2 hrs. Written driving directions below, or Google link.
More details:

BOOTHBAY: If you'd like to enjoy the small coastal towns and harbors, we suggest you stay in Boothbay Harbor for Saturday, and even Sunday nights. We recommend: Brown's Wharf 800-334-8110; Fisherman's Wharf 800-628-6872, Five Gables Inn, Harborage Inn. The Boothbay Harbor C of C site: www.boothbayharbor.com has lots of options.

PORTLAND: Best information site: visitportland.com

We will be fielding questions from the AudioFile office. 207-774-7563, we're glad to help you.

Remember please: RSVP to 207-774-7563 or
[email protected]
Directions: (Portland-Boothbay 2 hrs./~60 miles-but traffic!)
Use GPS for best route Portland to Boothbay Harbor. Come into Boothbay Harbor on Route 27, Hannaford Supermarket on right -- traffic light
Take LEFT at Rte 96, go 3 miles to East Boothbay village -- DO NOT turn until you are through the village -- despite what GPS and Google Maps say--they are wrong! Through East Boothbay village, up hill to East Boothbay General Store on right--bear hard right to Murray Hill Rd.
Look for Lobsterbake Parking signs on right at large green boat shed. Walk (1/3 mile) to the cottage.
To Tidesong cottage: Follow along the road, waterside, twists and turns past Five Gables Inn, look for "Whitten, #136" on the left. No room for parking at the cottage, but you can drop off, and then park back at the boatshed.