The Many Voices of Sherlock Holmes
By Yuri Rasovsky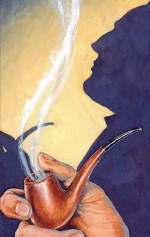 Good to see you, Watson. Come in!

I was just sorting through these sound recordings I have piled here on the floor. I am embarked on what I dub The Adventure of the Disembodied Detective—an ongoing investigation into the numberless voices on the wireless and the gramophone that have portrayed, and continue to portray, me—the world's first and greatest consulting detective, Sherlock Holmes.

And you, too, of course, old boy. Legions of invisible Watsons float eternally and I dare say, mellifluously, through the ether. After all, our adventures are your memoirs, your romanticized accounts of our sleuthing, are they not?

Well, it may interest you to know, dear fellow, that many of the aural impersonations to which I have just now referred have been preserved, and are being copied onto audiotape and compact disc, or are dangling in "cyberspace," from whence they can be plucked down like an electronic apple off the tree. You do keep up with these modern inventions, don't you? At any rate, counting only those sound recordings in English and purchasable in the U.S. of A., I reckon more than 1,000 are currently being sold!

The first wireless me back in 1930, if I recall correctly, was that American matinee idol William Gillette—you know, the chap who co-wrote and starred in that play about me, coincidentally titled Sherlock Holmes. He was 76 at the time and had already been impersonating me on stage for 30 years.

Did you know, there are at least three audio versions of the play that you can buy today? One has that Orson Welles chap playing me, in an hour-long cutting of 1938, on his very first Mercury Theater of the Air. David Warner took the part not long ago in a California Artists Radio Theater (CART) production published by Oasis Audio. And Blackstone Audiobooks has just released a full-length version starring Martin Jarvis and Kristoffer Tabori, two distinguished Audie Award winners.

Welles, you know, played Moriarty nearly a decade after he played me, in a version of your "Final Problem" story, in which no less than Sir John Gielgud took me on and Sir Ralph Richardson covered you. Part of a BBC/CBS series, I believe. I have a number of those programs in the pile here.

From the pile I could also pull out dramatic renderings in which we sound a great deal like Basil Rathbone and Nigel Bruce, John Stanley and Alfred Shirley, George Shelton and Ian Martin, Carleton Hobbs and Norman Shelley, Kevin McCarthy and Cort Benson, Clive Merrison and Andrew Sachs . . . . The list goes on. Why, BBC Audiobooks America has just published audio theater versions of the complete canon of your Sherlockian writings, Watson. Didn't they tell you?

In addition to these vintage theatricals for the ear, we have the relatively recent advent of audiobooks. Here's where you shine, Watson, since you narrate all but one of the published cases. I doubt not that all of them can be found on sound recordings interpreted by a single reader impersonating you. Thus, dear fellow, we have an even longer line of distinguished Watsons than of, as it were, "hammy Holmeses." I've heard your deathless prose read by movie Sherlocks Rathbone and Christopher Lee; audiobook stalwarts Jarvis, Simon Vance, and Frederick Davidson; Edward Hardwicke, the bloke who played you on the telly opposite Jeremy Brett. And that's just off the top of my head.

And—would you believe it?—when they run out of your cases, they invent their own. They have me analyzed by Freud, tracking Jack the Ripper, and I know not what else. Why, in one series, I am married, of all things, and my wife is a greater detective than I! Of course, writers have been adding to my exploits ever since they could get away with it, and many of these so-called pastiches—spurious cases I say—are being proliferated as recordings. New ones are cropping up, too, as original recordings.

Don't get the wrong idea, Watson. I don't actually mind. Quite the opposite. I have just passed my 150th anniversary, as you know. At my age, I can think of nothing better than to putter about my bee farm on the Sussex Downs, with a headset on under my protective netting, getting a nostalgic earful.

You ought to take up your own hobby of listening, old fellow! Indeed, were I you, I'd start with THE ULTIMATE SHERLOCK HOLMES COLLECTION from Radio Spirits. It gives one various Old Time Radio Holmeses and Watsons. Choose your favorite and begin collecting. Next, I'd search the archived reviews on AudioFile magazine's Web site (www.audiofilemagazine.com). No better guide can be found! To access the archive, you must join AudioFile, a secret society or some such, but the dues are paltry, a few pence. Whilst on the Internet, a Google search will undoubtedly yield fruit, revealing particularly those of our adventures that one can, as they say, "download."

What have I concluded from my investigations thus far? Well, first, that we enjoy considerable celebrity for two old fogies. And, second, when it comes to sound recordings of the narrating voice, the important thing is . . .

Elocutionary, my dear Watson!
View Sherlock Holmes Audiography

-Yuri Rasovsky
FEB/ MAR 05
© AudioFile 2005, Portland, Maine