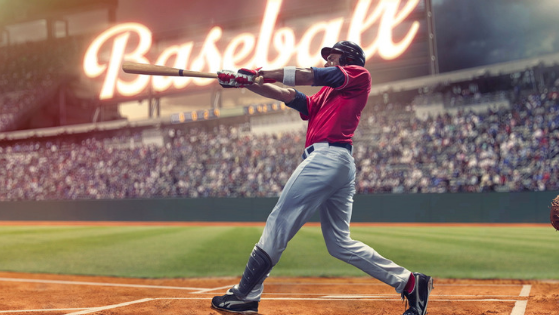 Just like listening to a game, the newest crop of baseball audiobooks—biographies, memorable seasons, legendary teams, and baseball trivia—will engage and indulge your love for baseball.
A new Babe Ruth biography is always welcome. Pioneering sportswriter Jane Leavy delivers a fresh look at the life and legend of the iconic Ruth with THE BIG FELLA. Fred Sanders is a master as the primary narrator. He immerses listeners and keeps the pace to allow us to savor the details and the massive scope of Leavy's portrait. In JUST SHOW UP: And Other Enduring Values from Baseball's Iron Man, the Baltimore Oriole veteran of 21 seasons, "Iron Man" Cal Ripken, Jr., narrates his own memoir and gives young and older listeners alike much to enjoy. Also in this season's audiobooks, SON OF HAVANA:  A Baseball Journey from Cuba to the Big Leagues and Back is a memoir-biography hybrid of Red Sox and Cleveland Indians pitcher Luis Tiant. Author Saul Wisnia provides the details of Tiant's life, from his Cuban upbringing and exile to his time on the field. MY DAD, YOGI will be a crowd-pleaser. A great ensemble of narrators including Joe Barrett, Robert Fass, and Sarah Mollo-Christensen amplify son Dale Berra's tribute. Chicago sportswriter Rob Rapoport and broadcaster Charley Steiner offer an illuminating biography of Chicago Cubs legend Ernie Banks. LET'S PLAY TWO: The Legend of Mr. Cub, the Life of Ernie Banks gets a storyteller's flair—making for great listening.
Every baseball fan has a favorite season or a memorable game. Among these new audiobooks, you may find yours! In TEN INNINGS AT WRIGLEY: The Wildest Ballgame Ever, with Baseball on the Brink, Kevin Cook takes a deep dive into the historic 1979 game that saw the Philadelphia Phillies and Chicago Cubs achieve a combined total of 45 runs. A great performance by audiobook narrator Barry Abrams—and Abrams knows his stuff, with a day job as an ESPN producer and the host of a podcast about thoroughbred racing. Let's go to the 1969 Mets team that took the World Series title. In AFTER THE MIRACLE: The Lasting Brotherhood of the '69 Mets by Art Shamsky and Erik Sherman, team members reminisce about the amazing season. Jonathan Todd Ross gives a great performance. His interest is clearly felt and easily keeps us engaged. And for Yankees fans—CHUMPS TO CHAMPS: How the Worst Teams in Yankees History Led to the '90s Dynasty by Bill Pennington. Narrator Christian Baskous nails this one—handling interviews, history, and play-by-play action and capturing the personalities of the players, coaches, and front-office executives. And more for New York fans, DOC, DONNIE, THE KID, AND BILLY BRAWL: How the 1985 Mets and Yankees Fought for New York's Baseball Soul is the most recent by Chris Donnelly and features more colorful personalities including George Steinbrenner and Billy Martin.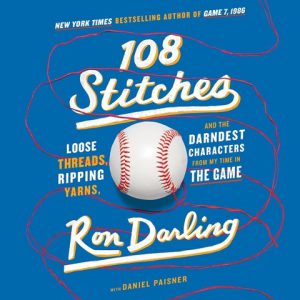 So much for "inside baseball," here's one for casual fans  with plenty of humor! In 108 STITCHES: Loose Threads, Ripping Yarns, and the Darndest Characters from My Time in the Game, broadcaster and former pitcher Ron Darling entertains with anecdotes about the many characters that he's crossed paths with throughout his career. It's like narrator Malcolm Hilgartner is right in the booth with him.
So whether your interest in baseball is a passion, an obsession, or something that makes you smile with memories, you'll find something to love with these new audiobooks.