Say hello to award-winning narrator MacLeod Andrews, who was kind enough to spend some time with us today. I've been a fan of MacLeod's audiobook talents since I first heard his voice on Travis Mulhauser's haunting SWEETGIRL, for which he won an Earphones Award with co-narrator Cassandra Morris.
I rely on MacLeod for creating believable character voices that flex to match the mood of the scene. He has a broad vocal register, which allows him to credibly portray a variety of protagonists from gruff old men to enthusiastic preteens. When performing nonfiction, MacLeod takes a steady approach, allowing us to absorb the factual material, but changes up his tempo and level of emotion to capture our attention.
The following recommended audiobooks highlight MacLeod's solo performances in several genres. I'm sure you'll add a few of these titles to your listening wish list.
5 Audiobooks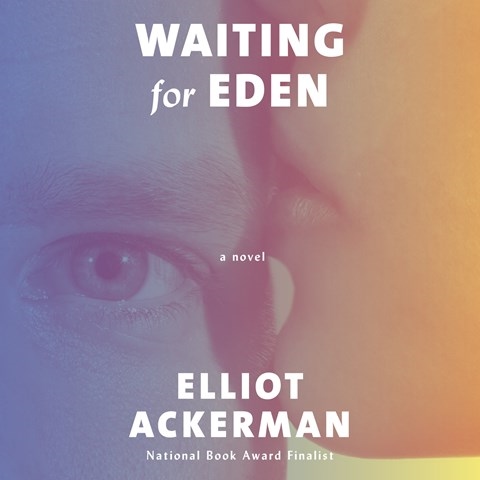 Elliot Ackerman's WAITING FOR EDEN is about Iraqi War veteran Eden, who was so badly burned by an IED that he is now unresponsive and dependent on life support. His story is told by his comrade-in-arms, who died in the same explosion that injured Eden. MacLeod's sensitive and thoughtful performance captures both the current heartbreak and past joys of Eden, his vigilant wife, and his dead best friend.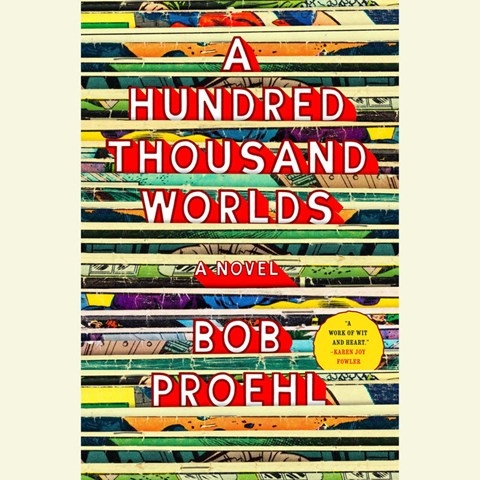 A HUNDRED THOUSAND WORLDS by Bob Proehl is an unusual road trip story about Valerie, a former popular actor on a sci-fi television show, and her young son Alex. The route Valerie takes from New York to California includes stops at multiple comic book conventions. MacLeod animates his delivery by impersonating each character, from Valerie and Alex to the motley crew of com-con regulars the pair crosses paths with.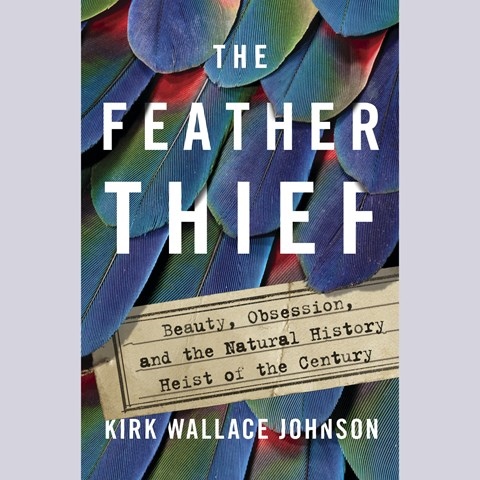 In 2009, a young, promising American musician, studying abroad, broke into a satellite branch of the British Museum of Natural History and stole 299 specimens of tropical birds, many collected more than 100 years ago. In THE FEATHER THIEF, investigative journalist Kirk Wallace Johnson tells us how and why this true crime occurred and explores the reasons the culprit was released by the British courts. MacLeod's expressive performance highlights the urgency of the theft and hunt for the perpetrator without taking our attention from the darker side of this serious and heartbreaking crime and its impact on scientific research and the historical record.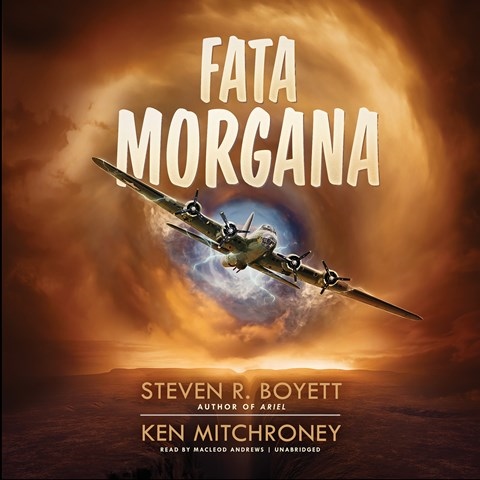 FATA MORGANA by Steven R. Boyett and Ken Mitchroney introduces us to the pilot and crew of a World War II fighter plane, whose bombing mission goes awry when they are suddenly transported to another world. Though the men are still in a battle, the rules and technology have changed, and survival depends on their wits and figuring out whom to trust. For this audiobook, MacLeod tapped into his vast repertoire of voices and characterizations to bring the personalities of the major players to the forefront.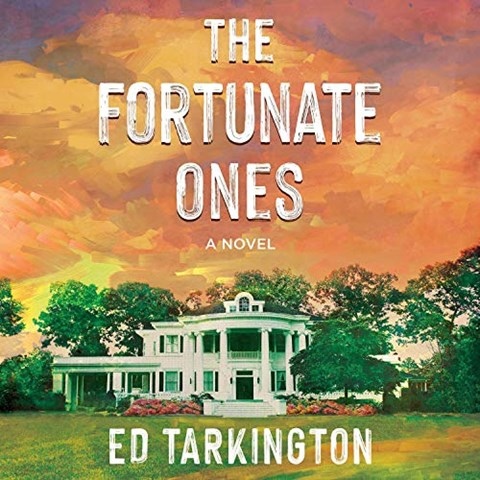 THE FORTUNATE ONES by Ed Tarkington is a coming-of-age story, set mostly in Nashville, about Charlie, a poor, fatherless boy living on the wrong side of town whose prospects change when his pretty mother becomes the "helper" of a rich woman. As Charlie learns to live among the rich and privileged, he discovers people's lives aren't always what they seem to outsiders. MacLeod's empathetic performance captures the range of Charlie's reactions as the teen tries to reconcile his experiences in the two worlds.
5 Questions
Now that you've become more familiar with narrator MacLeod Andrews's audiobook performances, it's time get to know a little more about the man behind the voice. Read on to see how MacLeod answered my questions.
AudioFile: What is the one thing you wish you knew before you recorded your first book?
MacLeod Andrews: Mistakes are normal! In fact mistakes are useful. My first book was actually a pretty challenging one in retrospect—CROWS & CARDS by Joseph Helgerson with Brilliance Audio. It is a middle-grade period adventure with lots of bold characters, dialects, and archaic slang. There were times, many times, when we were slogging it out sentence by sentence. I was sweating bullets and thought, "I'm so slow!" But no one else was worried, my director patiently saw me through it, seemed calm as could be. We did have to extend the record by a day because, ultimately it took longer than they expected; but no one was much bothered at taking the extra time.
To this day, I welcome mistakes; it gives me a moment to pause, let my thoughts catch up to my mouth, and if I'm being punch recorded, it gives me little aural sips through which to evaluate my performance and adjust. Most importantly, it gives me a second to assess my rhythm and headspace, to check in with myself and ask if I've gone on autopilot and fallen into a cadence. If so, that beat gives me a chance to reengage with the text and find a new energy, a new musicality, and bring the text back into the present.
There's something called a "run," which was always much talked about and touted when I was getting my start. It basically just refers to a long stretch of error-free recording. People would compliment you for them. Stories were told of epic runs by veterans of the biz. And, yeah, continuity and flow can be useful, but I've largely abandoned granting "a good run" much value. If I'm really focused and emotions are high then, yeah, a mistake can be a bummer, and I hope to avoid them, but not because of efficiency, rather because I know I'm in a good headspace, and connected, and I don't want to fall off that wave or let my engine rev down. But now, sometimes I'll flub a run on purpose regardless of whether I've made any technical errors, just so I can slow things down and check in on all those things I just mentioned.
AF: What's your first reaction when someone asks you how he or she could become an audiobook narrator?
MA: Oof, this one is tough. I think a lot of folks approach me about audiobooks when they're stalled out in some aspect of their career and are reasonably looking for ways to make ends meet. Or they take for granted how grueling the work is and like the idea of being a narrator without appreciating the process. That said, I was given a shot, when I had nothing to indicate I'd be any good at it other than a recommendation that I was a good actor. I booked that audition, that one book led to more, and it grew into a career. So I will always try to do what I can to help someone gain a foothold in this business. I want you to be awesome at this! What's more I want you to make a good living. I want you to win more awards than I ever could and become the next big narrator. But experience has taught me getting your foot in the door is harder than it maybe was when I got my start. I've referred a number of amazing performers to everyone in the industry I could think of with it never materializing into an offer let alone an audition. A few have broken through though. Part of this I think is that the publishing industry moves much slower than most other aspects of the acting profession. So one's interest generally needs to be maintained over months, even years.
The first thing I will tell someone I know to do when they ask me about getting into narration is to select three 3- to 5-page sections from books their voice would be a good fit for and/or that they just really love; set up a quiet space in their closet, surrounded by clothes, with a decent but affordable USB mic hooked up to their computer; and record those samples. One sample should be fiction with dialogue from both male and female characters. At least one should be genre lit if characters and dialects are a strength. One should be straight narration of nonfiction. A romance sample is never a bad idea because that side of publishing is massive. That alone will usually indicate whether or not someone is serious or if it's just a passing curiosity. If they send me samples and they're just awesome, I'll do my best to forward them to as many publishers as I can. If the samples need work I'll offer some thoughts or refer them to some classes. As with any aspect of the arts, there's also just so much that is chance. A publisher has a book for which they need a very specific type of narrator and it just happens to fit an actor I'm friends with and I make a recommendation and it works out . . . or it doesn't.
AF: What's your go-to beverage when recording? How about after recording?
MA: During: Water. Black Coffee. After: Water. Whiskey.
AF: What kinds of things do you do to protect your voice in your down time?
MA: Not enough? Haha. I kid but not really? I don't think the mellifluousness of my voice (or lack thereof) has ever really been my strong suit or what has made me castable. My highest priority has never been the voice beautiful but communication, presence, commitment, honesty, spontaneity. I get scratchy or thin at times, a bit hoarse. That said, sometimes the rougher sounding characters are harder to maintain and require the most proactive care. Water. Weirdly black coffee helps me sometimes. A big old bowl of yogurt obviously doesn't help anyone. But sleep is hard to overemphasize in importance. Which is frustrating. I dedicate a lot of energy to other pursuits once I hang up the headphones for the day, and my partners in those endeavors can still physically do their jobs and burn the late-night oil. As a team member it can be a challenge to maintain solidarity and also protect the source of your livelihood. I digress, but the point is you have to protect your sleep despite that little evil voice in your head that wants to lionize some kind of uber-productive-only-gets-four-hours-of-sleep-dynamo silliness. Now that I'm working from home, a quick ten-minute nap if things are sliding can be a lifesaver.
But mostly what I do to protect my voice is in the booth. I let the microphone do the work. These mics are incredibly sensitive tools and I use that to my advantage. I can narrate a book at a level where you wouldn't even be able to understand me outside of the booth. In a crowded, noisy room, there's maybe one pitch I can ride at length without blowing my voice, and it's much higher than what you'll hear in most of my books. Cuz higher pitches carry better over distances and through noise. So I lean into the intimacy of this format, which protects my voice but also opens up a broader range of vocal levels to use for my characters and delivery.
AF: What do you never have with you or never wear (or always have /always wear) in the recording booth?
MA: Since I started recording from home because of COVID, I can no longer answer this question and maintain any shade of modesty. But, you know, don't wear logo T-shirts with large, thick ink, as your headphone cable will smack against it, make rubbing sounds and otherwise crinkle. Don't wear starchy button downs. The softer the fabric, the better. If you can, keep your phone and even your watch out of there to help you focus and block out all the life that just keeps raging on around you while you're trying to cocoon in this quiet little focus bubble for hours on end, day after day. Haha, I'm making myself feel lonely.
---
Thanks so much, MacLeod, for stepping out of the booth long enough to talk to me. I never thought about just how different it can be between speaking into a mic in a small, isolated room versus talking in a social situation. And, if it's ever possible to be out and about again, I'd be happy to stand you a whiskey!
To discover more audiobooks performed by MacLeod Andrews, be sure to browse our reviews.
Photo of MacLeod Andrews by Keidy Moreno