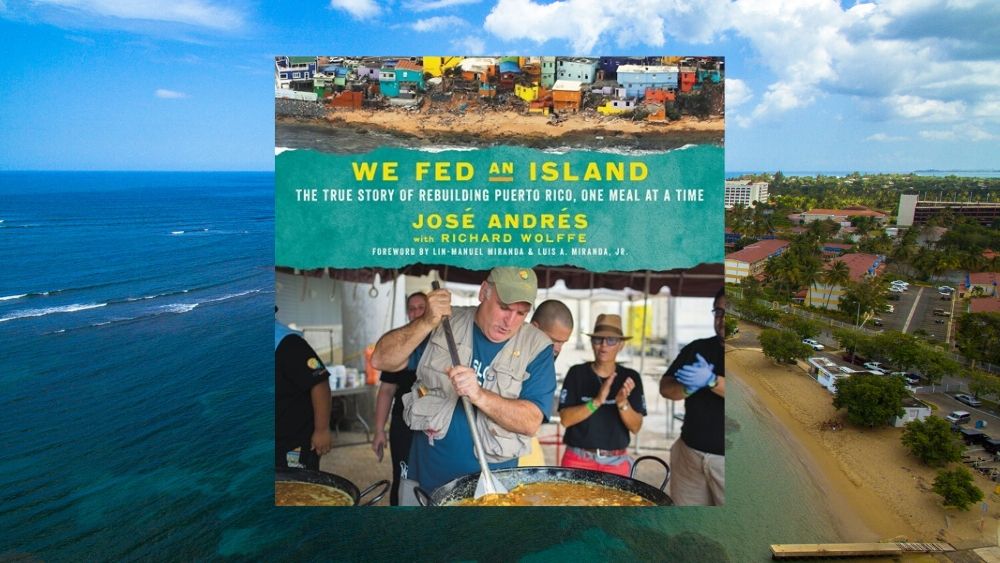 Each month, AudioFile editors Jennifer Dowell, Emily Connelly, Francisca Goldsmith, and I decide on topics which we can explore with both new titles and older audiobooks mined from our AudioFile archives. We feature them on our social media and in articles here on the blog. We try to find a twist on holiday themes—which we can all agree get a little repetitive—and look at whether there's any fun to be had with holidays like Pi/Pie Day. One that we chose this month is "service" as we think about veterans and humanitarians alike, like Chef José Andrés (above) and his service to Puerto Rico, which he recounts in WE FED AN ISLAND.
We found some interesting memoirs and biographies as well as mission/vision discussions. OUR BETTER ANGELS by Jonathan Reckford is a discussion of Habitat for Humanity's mission. Former President Jimmy Carter reads the foreword, and narrator Robert Petkoff gives an uplifting performance of the stories. This reminded me of Dr. Paul Farmer; not only has he written about Partners in Health, the organization he co-founded, in HAITI AFTER THE EARTHQUAKE, he was profiled in Tracy Kidder's memorable audiobook MOUNTAINS BEYOND MOUNTAINS. Narrator Arthur Morey delivers an accessible performance of NYT columnist David Brooks's THE SECOND MOUNTAIN. Howard Schultz and Rajiv Chandrasekaran recognize what many combat veterans offer their communities in FOR LOVE OF COUNTRY.
Several recent memoirs of individuals with remarkable records of service give compelling portraits. Former U.N. ambassador and war correspondent Samantha Power delivers her EDUCATION OF AN IDEALIST with humility and gravitas. Actor Gary Sinise's memoir GRATEFUL AMERICAN benefits from the author's skill and training to convey the emotional tension of his advocacy for men and women who serve in the U.S. military and for first responders. In the recent biography of Elie Wiesel, WITNESS: Lessons from Elie Wiesel's Classroom, narrator Jason Culp is fully engaged, earning an Earphones Award. AudioFile reviewer Brian Price notes, "This audiobook is insightful, life affirming, and life changing."
Hearing these audiobooks should be just that—inspiring.