How can audiobook listeners help nurture independent bookstores? The next time you visit your favorite indie bookstore, look to see if they are Libro.fm Audiobooks partners. You can do this by asking the bookseller while browsing in the store, or just check out Libro.fm's website to find a Libro.fm partner near you at Libro.fm/indies. AudioFile wants more listeners to know about the program because getting your downloadable audiobooks from Libro.fm supports your local bookstore.
Here's the AudioFile spin on Libro.fm Bestsellers, including titles we're talking about on AudioFile's new podcast, Behind the Mic with AudioFile Magazine.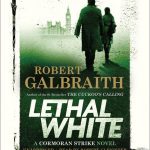 LETHAL WHITE
by Robert Galbraith, read by Robert Glenister
Remember that Robert Galbraith is the pen name that author J.K. Rowling uses for the Cormoran Strike series. Listeners can fully enjoy the colorful characters of Strike's world that narrator Robert Glenister creates. Hear our podcast episode on this 4th Strike mystery.
WHERE THE CRAWDADS SING
by Delia Owens, read by Cassandra Campbell
Cassandra Campbell serves up "a bushel of Carolina accents," reviewer Sunny Carito tells us. Coupled with nature writer Owens's rich descriptions of the natural world, this sounds like a listening treat. An Earphones Award winner.
THE IMMORTALISTS
by Chloe Benjamin, read by Maggie Hoffman
The four Gold siblings—their lives, and the ultimate end of their lives—make for a fascinating listen. Hearing narrator Hoffman recount many of the cultural landmarks of time—the '60s—and place—San Francisco and the Lower East Side—will resonate with listeners.
THE HATE U GIVE
by Angie Thomas, read by Bahni Turpin
Whether you've seen the recent film yet or not, listeners should not miss one of the greatest audiobook performances of the last few years—for which Bahni Turpin received the Best Female Narrator Audie Award.
FEAR
by Bob Woodward, read by Robert Petkoff
Woodward dissects the White House in his inimitable style. Robert Petkoff's narration brings the audiobook across in an effective journalistic style. Watch our video to see Robert commenting on his experience of recording FEAR.
ASTROPHYSICS FOR PEOPLE IN A HURRY
by Neil deGrasse Tyson, read by Neil deGrasse Tyson
The author delivers his study of space and time clearly and engagingly to listeners. His popular appeal and ability to simplify and connect with audiences work perfectly in the audiobook version.
LEADERSHIP: In Turbulent Times
by Doris Kearns Goodwin, read by Beau Bridges, David Morse, Jay O. Sanders, Richard Thomas
Four narrators and the author, who introduces and concludes, convey this history and overview of presidential leadership. The listener is rewarded by this variety and by the care that each narrator takes.
RESTLESS WAVE: Good Times, Just Causes, Great Fights, and Other Appreciations
by John McCain, Mark Salter, read by Beau Bridges
The late Senator McCain delivers the introduction and conclusion of his memoir, giving this audiobook an archival significance. Beau Bridges narrates the balance of this late-in-life memoir from McCain.
Booksellers often have "staff picks" and recommendations to help you choose your next books, but don't forget to ask about audiobook options. Many booksellers read and listen—just like the rest of us!
Podcast news: Earlier this week I chatted with Tamara Ford on her Shelf Addiction podcast. As we are just starting out with the new AudioFile podcast, I am in awe of Tamara's 200+ episodes!