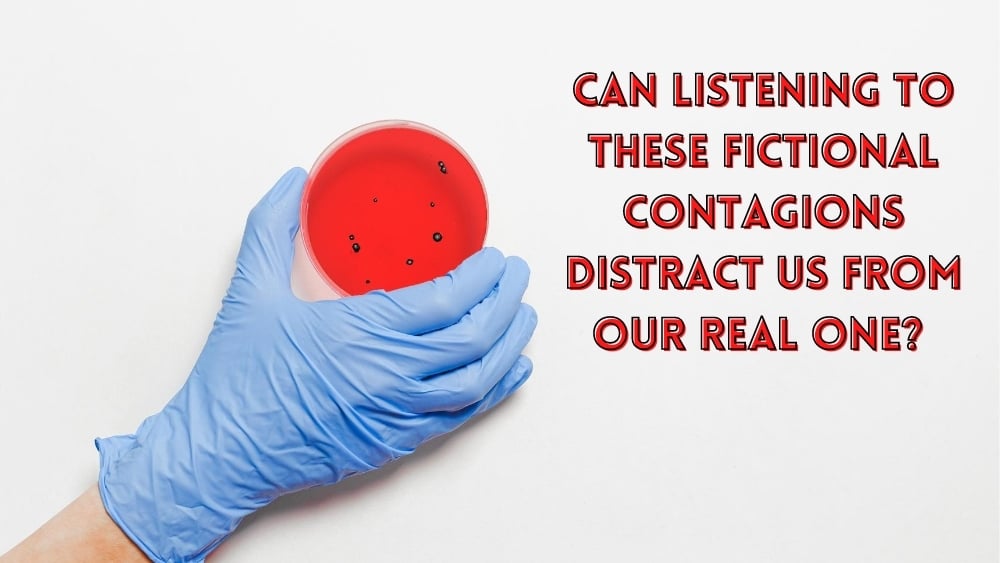 I have sewn a wardrobe of washable masks and discovered a heretofore unappreciated skill for following directional arrows along grocery store aisles. I don't know what our post-COVID future will look like—better, worse, unrecognizable? The uncertainty makes me nervous, so I'm soothing my disquiet with fictional contagions. Some new; some classic; all guaranteed to divert you temporarily from the case counts in your neighborhood.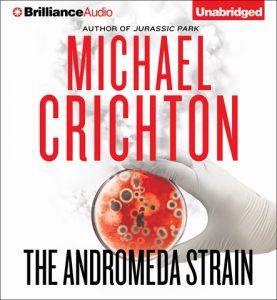 THE ANDROMEDA STRAIN comforts by originating the contagion in space. Once it arrives on earth, it's a killer. But still, that hasn't happened in real life yet, right? Michael Crichton's gripping, fifty-year-old(!) classic is read to great effect by David Morse, who I've liked since his time on the television medical drama St. Elsewhere.
How about a fungus that turns people into "hungries"—aka zombie-like cannibals? Finty Williams won an Earphones Award for M.R. Carey's THE GIRL WITH ALL THE GIFTS, a thought-provoking tale about a little hungry named Melanie, who is as dangerous as she is delightful. It was also made into a good 2016 film featuring Sennia Nanua and Glenn Close, but listen to the audiobook first.
Carey's new book, THE BOY ON THE BRIDGE, takes place in the same plague-infected world, but earlier than Melanie's story. A crew of scientists voyage from a human stronghold into the devastation to retrieve what they can from a previous mission that's gone missing. Child hungries do not make it easy for them. Finty Williams is in excellent voice again as the narrator.
Cassandra Campbell delivers an amazing performance of Josh Malerman's BIRD BOX, in which a plague of unexplained creatures drives people insane. The only way to stay safe is to blindfold yourself. That's what the protagonist, Malorie, does as she carried out a desperate plan to paddle upriver to safety with her two young children. The sequel, MALORIE, came out this year. Again wonderfully narrated by Campbell, it takes place twelve years later when Malorie learns that her parents may be alive. Should she and her rebellious, now-teenage children leave their safe place to travel blindfolded through danger to an uncertain reunion? The result is understated, terrifying, and moving.
I'll end with the marvelous, genre-defying Margaret Atwood. Her classic MaddAddam Trilogy ORYX AND CRAKE, THE YEAR OF THE FLOOD, and MADDADDAM is speculative fiction at its best. The first book begins with a plague and a quest, as Jimmy, one of the few humans to survive a worldwide contagion, sets off to find answers to his predicament. Campbell Scott won an Earphones Award for his enticing narration, which highlights the story's blend of realism, satire, elegy, and love. THE YEAR OF THE FLOOD (read by Bernadette Dunne, Katie MacNichol, and Mark Bramhall) and MADDADDAM (read by Bernadette Dunne, Bob Walter, and Robbie Daymond) take place in the same lush, semi-abandoned world where monolithic corporations and random violence dominate, and hope for the future lies with a small band of humans, including a sect called God's Gardeners, and Crakers, a gentle, bioengineered quasi-human species. The entire series is sublime, clever, funny, and unsettling.  And the narrators rock.
So, stop doomscrolling for awhile and listen to a fictitious contagion. Much like riding a roller coaster when you're afraid of heights, you'll scream and then you will feel better.