It was an Audie Award season like no other! For the past 26 years, the Audio Publishers Association has presented the Audie Awards to celebrate excellence in audiobooks and spoken-word entertainment. The Romance Audie Award was first given in 2005. While the judging and announcement of the finalists proceeded as usual, this year's Audie Award Ceremony, usually a red carpet affair with fabulous formalwear, had a special twist—a virtual event open to everyone via YouTube livestream. What a wonderful gift to watch in real time as narrators and audiobook professionals live chatted their way through the Award Ceremony, some in formalwear and some in a hot tub! Part of me hopes The Audies will always use this format so the event continues to be a worldwide celebration of audiobook love.
And speaking of love, what a superb group of finalists in the 2021 Audies Romance Category. I certainly did not even try to predict the winner from among the stellar group of finalists. This year the 2021 Audies Romance winner is DIRTY LETTERS by Vi Keeland and Penelope Ward, read by Andi Arndt and Jacob Morgan, and published by Brilliance Audio.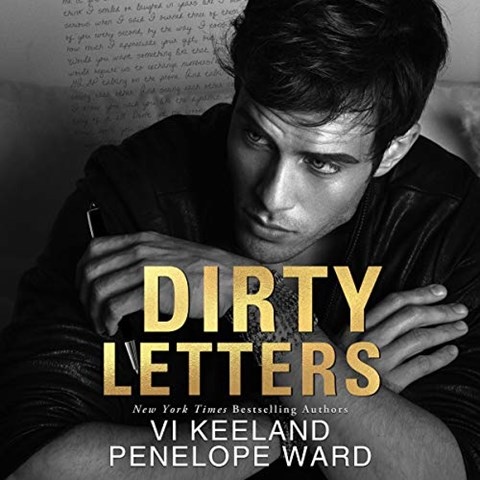 DIRTY LETTERS begins with a bi-continental penpal friendship between Griffin and Luca that grows into love when they reconnect as adults. In a duet narration, Andi Arndt and Jacob Morgan navigate the couple's difficulties with aplomb. Arndt vocalizes Luca's self doubt and self-deprecating humor using an uncertain, resonant voice, and Morgan voices Griffin's English accent with a rough-edged, studied diffidence. Both narrators succeed in framing an intimate world where the main characters' feelings cause the rest of the world to slide away. Even in Griffin and Luca's most mundane interactions, Arndt and Morgan spark an electric attraction.
See AudioFile's coverage of the Romance finalists and the full list of 2021 Audie Award winners and finalists to find more excellent audiobook listening in other genres.
And, for a walk down memory lane, check out AudioFile's coverage of the 2020 and 2019 Audie Award winners for Romance. Cheers to another great year of memorable romance audiobooks.