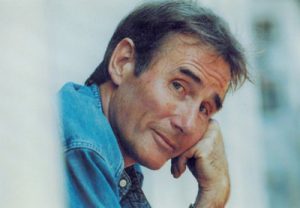 The incomparable Jim Dale has a voice and narrating style that make him instantly recognizable. He has received multiple awards during his career, including Grammys, Audies, and an MBE (Member of the Order of the British Empire). He even held the Guinness World Record for Most Character Voices in an Audiobook. His recordings for kids are truly among the best of the best in family listening. While you can't go wrong with any Jim Dale recording, these are my recommendations for essential listening with kids.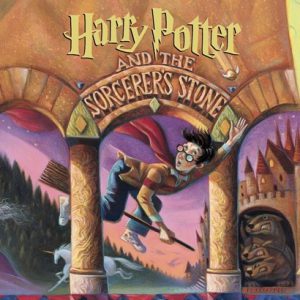 HARRY POTTER AND THE SORCERER'S STONE
by J.K. Rowling, Read by Jim Dale
Listening Library, Ages 8+ 
Over the 7-book Harry Potter series, Jim Dale single-handedly brings more than 100 distinct characters to life in his awe-inspiring performances. More than the movies, maybe even (dare I say it?) more than the books, this is the definitive way to experience Harry Potter's world. The characterizations are spot-on, and Dale is laugh-out-loud-funny. If I were stranded on a desert island with only one audiobook, this is the one I would want.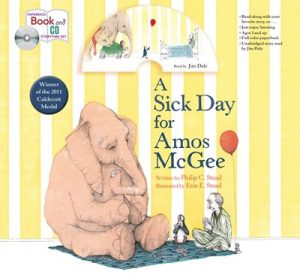 A SICK DAY FOR AMOS MCGEE
by Philip C. Stead, read by Jim Dale
Macmillan Audio, Ages 4-6
Gentle text about kindness narrated by the beloved Jim Dale makes this a modern classic on audio. Dale's expressive narration endears listeners to all of his characters, and kids will love the kind zookeeper Amos McGee and his animal friends.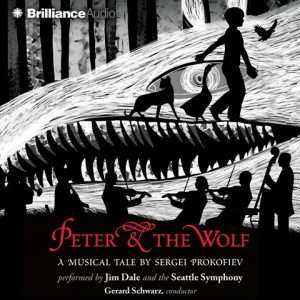 PETER AND THE WOLF
by Sergei Prokofiev, read by Jim Dale
Brilliance Audio, Ages 4-6
Jim Dale brings his own grace, wit, and English charm to this treat of a production. Instead of taking a backseat to the enchanting musical score, Dale's pronunciation and articulation enhance and enliven the beautiful orchestral accompaniment. This should be at the top of the list for schools and parents who wish to introduce classical music to a young audience.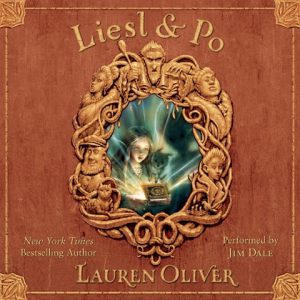 LIESL & PO
by Lauren Oliver, read by Jim Dale
Harper Audio, Ages 8+ 
Listeners will devour this clever cracked fairytale about a lonely girl, a ghost, and his pet, Bundle. Oliver paints gorgeous images with her language, and Dale at times sounds wonderstruck by the beauty of the tale. (He also performs terrific old-lady sneezes and delightful animal noises.)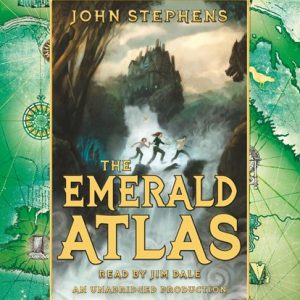 THE EMERALD ATLAS
by John Stephens, read by Jim Dale
Listening Library, Ages 10+
Jim Dale's splendid narration provides extra vibrancy to this exhilarating fantasy trilogy full of nonstop action and magical adventure. When Kate, Michael, and Emma are sent to a new orphanage, they find The Emerald Atlas, a magical book that allows them to travel through time. Michael gets stranded in the past, and as the girls try to rescue him, they meet hilarious dwarves, a powerful warrior, and an evil witch who is also seeking the Atlas, all brought to life by Dale's inspired reading.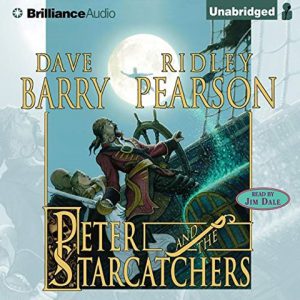 PETER AND THE STARCATCHERS
by Dave Barry, Ridley Pearson, read by Jim Dale
Brilliance Audio, Ages 10+
This first book of a fun fantasy adventure series introduces Peter (a.k.a. Peter Pan), the leader of a group of orphan boys aboard the Never Land. On the ship Peter meets Molly, who is guarding magic material that gives humans the ability to fly. Jim Dale gives an astonishing one-man performance, creating distinct voices for all the characters in a rollicking audiobook series the whole family will love. If you like this one, don't miss the sequels!
For more on Jim Dale, listen to AudioFile's podcast episode about this Golden Voice narrator and explore his audiography.