Neil Gaiman and an ensemble of talented narrators created the full-cast audiobook production of AMERICAN GODS.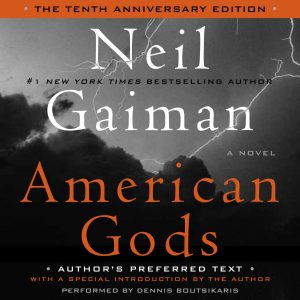 AMERICAN GODS, 10th Anniversary Edition with Full Cast
Listen to a sound clip
Neil Gaiman's AMERICAN GODS is headed to the small screen with an all-star cast, but lucky listeners already have two wonderful versions of the audiobook that they can listen to. In 2011, AudioFile Magazine spoke with Harper Audio executive producer Karen Dziekonski and producer/director Paula Parker about the 10th-anniversary full-cast production of Neil Gaiman's AMERICAN GODS.
AF: How did the idea of a new, full-cast recording come about?
KD: Neil Gaiman proposed the idea of a full-cast recording after he and two others performed a section of the book in front of a live audience. He thought it really worked, and we loved the idea right away. Over the years, Harper Audio has produced many Neil Gaiman audiobooks. Each production was special—in terms of use of music, or Neil's involvement as narrator—really fun and rewarding because of Neil's support of the audio format. This production of AMERICAN GODS would take our long collaboration with Neil to a new level. We saw it as great creative challenge and a wonderful way to commemorate the 10th anniversary.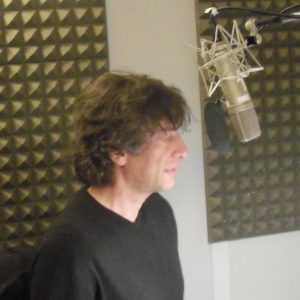 Neil Gaiman in the recording studio
AF: How much was author Neil Gaiman involved in the process, aside from the parts he narrated himself? What was the casting process like?
PP: Neil had some wonderful narrators in mind: Ron McLarty, Anne Bobby, and Sarah Jones. We submitted voice samples for other roles such as Shadow and the narrator, from which Neil selected Dan Oreskes and Dennis Boutsikaris—both experienced and talented narrators. The rest of the cast—most having to play at least six different roles—were chosen for their versatility and vocal quality. The cast included 20 actors. We all had enormous respect for Neil and wanted this recording to honor his special voice.
AF: Did any of the narrators record in the studio together, or was it all put together post-recording? How did that work?
PP: Each narrator's part was recorded separately. However, we meticulously matched the actors' performances by focusing on the intention of the scene and always listening back to what the previous actor had recorded. I worked closely with the engineer—editing and using very precise script markings as a road map for our post-production team—to ensure that performances sounded as though they were recorded with everyone present.
AF: Were there any particular challenges in putting together this full-cast recording?
PP: This 20-hour, 20-actor audiobook's biggest challenge was to ensure that small errors didn't undermine the larger effort. For example, during pre-production, I made certain that each character and each line was accounted for. Otherwise, we could have been bringing actors back three or four times for missed lines. Thankfully, that didn't happen. Only a small number of pickups and rerecords were necessary.
AF: Anything else you'd like to share with us about the process of recording and producing AMERICAN GODS?
PP: The team effort behind this production made this massive recording enjoyable and creatively rewarding. I'd like to thank Neil for trusting us to bring his incredible characters and narrative to life, HarperCollins for giving us the opportunity to produce it, the "best there is" production team at John Marshall Media, and last but not least, the actors who delivered their performance heart and soul to this audio program.