In MOTHER COUNTRY, Kathleen Gati narrates the story of Nadia, a Ukrainian woman who is struggling to make her way in the U.S. and to bring her daughter to this country. Her quest is punctuated by flashbacks—deftly negotiated by Gati—that detail what brought Nadia herself to New York.
"The lengths she goes to to express her love for her daughter . . . I think you'll love this book."—Narrator Kathleen Gati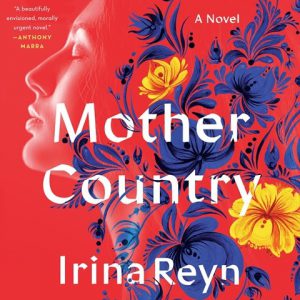 MOTHER COUNTRY
by Irina Reyn, read by Kathleen Gati
Brilliance Audio
AudioFile Earphones Award
This audiobook unfolds so quietly, so gently that its impact lingers long after it ends. Gati's voice is warmly appealing, and her investment in the story, superb. She creates colorful characters with an energy that pulls the listener in. What especially shines is her skill with accents and vocal shifts. Gati gives all the characters in this audiobook distinctive voices, accents, and energy.
Kathleen Gati excels with Russian and Eastern European accents. Find historical fiction, memoir, and fantasy audiobooks in her audiography, and watch her earlier video about THE GIRL IN THE TOWER.