Satisfy your historical fiction cravings with BETHLEHEM by Karen Kelly. Set in Bethlehem, Pennsylvania, the novel shifts in time from the steel-boom era of 1918 to 1962. Joanna's husband's position as head of Collier Steel requires that she and their kids move to the Collier family mansion in Bethlehem. There, she will assist her mother-in-law, Susannah, and Susannah's mother, Helen. In the video below, narrator Christina Delaine shares why she loved all of the complicated characters in this multigenerational saga.
"BETHLEHEM is part love story, part tragedy, part mystery, and it's filled with old heartbreaks, old secrets, old regrets, old ghosts."—Narrator Christina Delaine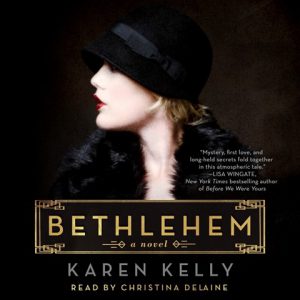 BETHLEHEM
by Karen Kelly, read by Christina Delaine
Macmillan Audio
AudioFile Earphones Award
Christina Delaine's voice can be smooth as dark chocolate or sharp as a razor. Delaine slips with ease from male to female, young to old, creating flesh-and-blood portraits of fascinating characters, including a cemetery caretaker who talks about secrets and spirits and the mystery of a gravestone marked "Baby Hayes." Delaine's performance highlights the family tensions as well as the love, caring and sacrifice that lead to trust and understanding.
Find more of Christina Delaine's audiobooks in her audiography.