As kids, no one ever wants a curmudgeonly neighbor who's regularly chastising them to "stay off my lawn." That messes up all the games of kick-the-can and hide-and-seek. And what happens when your baseball accidentally goes in their yard? Lost. For. Ever.
But in other realms, the curmudgeonly characters are often some of the most well-loved. They're the comic relief, the unfiltered voice, the personality we secretly hope we're brave enough to embrace one day. And typically, there's a pretty good heart buried deep inside as well. TV is full of these grouchy personalities: Leroy Jethro Gibbs from NCIS, Dr. Gregory House as the title character in HOUSE, and for those who can remember, Jonathan Higgins in MAGNUM, P.I.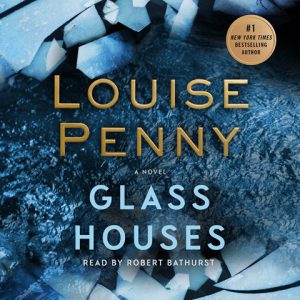 Crime fiction also claims a number of delightfully cantankerous characters.
Louise Penny, whose new audiobook in the Three Pines series is GLASS HOUSES (and an Earphones Award winner), has crafted an excellent curmudgeonly specimen in Ruth Zardo. Penny's expletive-spewing poet may walk around with a rain cloud over her head, but she brightens every scene she enters. Both Ralph Cosham in the early recordings and now Robert Bathurst illuminate her cranky disposition with aplomb, allowing that hidden softie to peek out just around her sharp edges.
Likewise, Craig Johnson's retired-sheriff Lucian Connally is hard not to love, despite his disdain for almost everyone and his colorful malapropisms. Lucian may be the ultimate sourpuss, but at the end of the day he's got Walt Longmire's back, and you're never in doubt with George Guidall's pitch perfect performances, either.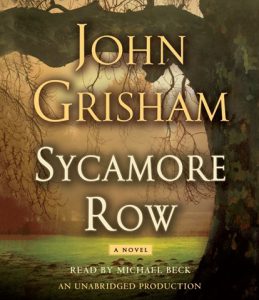 A slightly different Lucien—John Grisham's Lucien Wilbanks (A TIME TO KILL, THE LAST JUROR, and SYCAMORE ROW)—has a darker disposition than Connally and Zardo, but his angry, self-destructive ways qualify him for the curmudgeon title. Michael Beck was tasked with voicing this grumpy guy for the latter two titles.
J.D. Robb's Lawrence Charles Summerset is another good candidate for this category, regularly and successfully performed by Susan Ericksen.
And sometimes it's the main character who takes on the role of malcontent. Jussi Adler-Olsen's Carl Mørck, Ian Rankin's John Rebus, and of course the king of crime's curmudgeons, Sherlock Holmes, all lead their series with a perpetual scowl and a regular infusion of wit. Many a narrator has had a go at Sherlock, but Mørck has come to life through the strong narration of Graeme Malcolm, and James MacPherson IS John Rebus.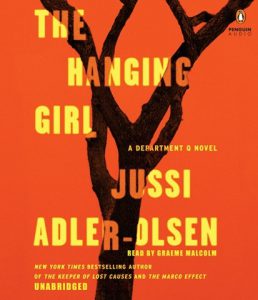 I mention the narrators so pointedly in this post because it's been my experience that the depiction of these curmudgeonly characters can be the maker or breaker in many of these audiobooks. They are tricky characters. Yes, they are grumpy, grouchy, and often crass, and if you met them briefly on the street, you'd likely turn and run. But the authors want you to see the element the characters are trying to hide of themselves. So the narrator has to be able to suss it out and still maintain the crabby shell. Performing the curmudgeon well is an art, and these narrators do it beautifully.
Who are some of your favorite curmudgeons from crime fiction?