AudioFile Magazine chats with author CD Reiss about her award-winning audiobook MARRIAGE GAMES, and her views on the audio experience.
AudioFile Magazine: Your book MARRIAGE GAMES just won an Audie Award for Erotica, and you attended the Audies Gala in New York City in June. What was that experience like?
CD Reiss: I brought my 13-year-old son with me, and since I grew up in Brooklyn, there were a lot of family visits that week. I wasn't thinking about business until I got there and met some narrators I love working with like Xe Sands, Andi Arndt, and Jeremy York. It was a lot of fun, the food was terrific, and to be honest, I was convinced I wasn't going to win, so I just relaxed and had a good time.
When Andi won her first award [for DIRTY], I was so happy for her, and I became even more convinced MARRIAGE GAMES wouldn't win because . . . who wins two awards in a night?
Andi, apparently.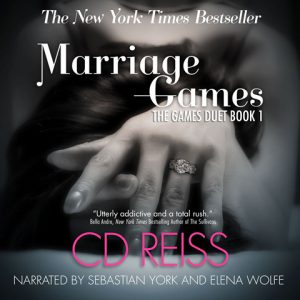 AF: Your books translate really well to audio. How involved are you in that work?
CDR: Many authors will tell you that listening to their own audiobooks is like getting a tooth pulled. They're right. It's absolutely painful.
However, I'm involved at the very beginning in directing the actors and creating the sound effects for texting and messaging. I use a lot of visuals, like paintings and graphics, inside the book, and for those, I write around them to make sure they're not needed for the audio.
For my next audio, KING OF CODE, I'll be making sure that the Twitter posts sound as good as they look, and that the code scripting is interesting to hear as well as to see. It's going to be quite challenging for the producers, but having worked with them before, I know they can pull it off!
AF: What do you appreciate most about the narrators who read your work?
CDR: At this point, I have good relationships with a few narrators. I know what they deliver, and they know what I need . . . so I don't have to look over their shoulders or ask for samples of tough passages.
AF: Can you think of one of your characters who was a challenge to narrate?  Tell us about him or her! What makes him or her a unique audio voice?
CDR: I think end-to-end, Monica from The Submission Series was the hardest. She sang and recited poetry, but I didn't have a melody in mind for any of the songs because I was trying to make them readable, not singable at that point. Two years later, poor Jo Raylan had to work her butt off to make it work, and SHE DID. Boy-oh-boy, did she. I was so impressed with how hard she swung and how far over the fence she got it.
AF: Which audiobook of yours would you suggest for a new listener? Why?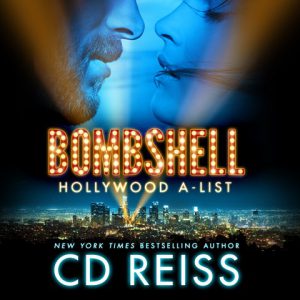 CDR: I think many of my new listeners came in through MARRIAGE GAMES. It's the single best audiobook I've put out, and I couldn't recommend it more wholeheartedly to people who already read erotica. Because of the adult content, it isn't for everyone.
So for broader romance listeners, I'd love to recommend BOMBSHELL. It's a romance with heart and soul . . . and more contained sexual content.
AF: Thanks so much to author CD Reiss for chatting with us about her audiobooks.
Read AudioFile's reviews of CD Reiss's audiobooks here!