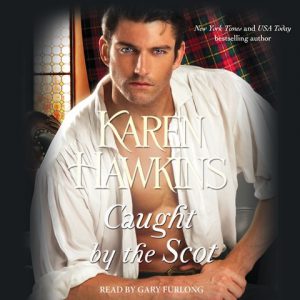 Usually we have the pleasure of featuring titles we've listened to and loved, but this week, I'm focusing on historical romance titles that are so new, some of them still in our players. All of these have caught our reviewers' interest for one reason or another, and bringing them to you feels as sweet as sharing a giant bag of leftover Halloween candy ready to scarf.  Love your 19th-century listening!
CAUGHT BY THE SCOT
by Karen Hawkins, read by Gary Furlong
Simon & Schuster Audio
AudioFile Earphones Award
Narrator Gary Furlong takes full control of privateer Conner Douglas's concerted efforts to woo his best friend Lady Thea back from her squire swain. Connor's steamy persuasions and Thea's disconcerting wit will have listeners enjoying the spectacle.
BEAUTY LIKE THE NIGHT
by Joanna Bourne, read by Kirsten Potter
Tantor Media
This popular series features espionage in the 19th century with strong female heroes. Rumor has it this will be the last Spymasters title from Joanna Bourne, and Katie, the lucky reviewer, tells me it's shaping up to be an A+ listen. If you need tips on conquering Europe on the sly, Kirsten Potter can narrate her way out of every tight spot!
Intrigued? Read a review from THE SPYMASTER'S LADY, the first title in the series, and check back for the verdict on BEAUTY LIKE THE NIGHT.
THE DUCHESS DEAL
by Tessa Dare, read by Mary Jane Wells
Harper Audio
I feel, thanks to friends' recommendations, I am 100% ready to love THE DUCHESS DEAL, so I listened to part of it before writing this column. I can report that Mary Jane Wells is tops, and better yet, funny (I love a funny romance). The premise is a duke marrying a seamstress who won't settle for less than happily ever after. The characters are such a good match, and Wells brings that out in her reading. Our reviewers love Tessa Dare's historical romances!
FROM DUKE TILL DAWN
by Eva Leigh, read by Faye Adele
Harper Audio/Blackstone Audio
First in the London Underground series, this lively historical pairs a professional con artist with a duke from her past. Narrator Faye Adele sounds proper yet wildly animated. Call me a hackney cab headed for "intrigued."
DUKE OF DESIRE: Maiden Lane, Book 12
by Elizabeth Hoyt, read by Ashford McNab
Hachette Audio
Reviewer Stephanie is on the job for the latest title from a thoughtful historical romance writer and a versatile narrator. Stay tuned for her review, coming soon. Meanwhile, in this installment, a dramatic kidnapping leads to a rushed marriage and unexpected common ground.
Are you new to the series? Jump in with the novella ONCE UPON A MOONLIT NIGHT for a taste of Hoyt and McNab's Maiden Lane series.
WHEN THE SCOUNDREL SINS
by Anna Harrington, read by Justine Eyre
Hachette Audio
Anna Harrington is new on my radar as a historical romance author of note, and she's getting great reviews. Justine Eyre is well known to many listeners — she manages the British impatience for idiocy so well in this story of an heiress who needs to marry on a deadline.
Why not try another recent historical and Earphones Award winner from this dynamic author-narrator duo, IF THE DUKE DEMANDS.
And, just to round out this stellar list, here's one last review, hot off our earphones:
WILDE IN LOVE
by Eloisa James, read by Susan Duerden
Harper Audio
Opposites attract in the newest title from Eloisa James, scholarly goddess of the British historical. Susan Duerden upends propriety as she voices a conventional heroine's response to a noted rake's attentions. But is Lord Wilde's reputation deserved or inflated? Superb dialogue will have listeners' full attention.