Adam Grupper takes listeners Behind the Mic to talk about his narration of THE COLOR OF LAW, Richard Rothstein's examination of discriminatory laws limiting housing for African-Americans. A former New York Times columnist and research associate at the Economic Policy Institute, Rothstein details disturbing evidence.
"For me, this was a deeply infuriating and deeply disturbing book. I hope it will have as profound an impact on you as it had on me."—Narrator Adam Grupper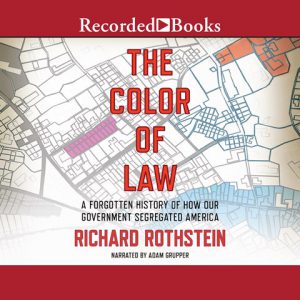 THE COLOR OF LAW: A Forgotten History of How Our Government Segregated America
by Richard Rothstein, read by Adam Grupper
Recorded Books
AudioFile Earphones Award
Adam Grupper's approach to Rothstein's history makes an excellent case for audio listening. With confidence and clarity, Adam lays out the details of how the U.S. government and the courts upheld racist policies for decades in direct conflict with the Fourteenth Amendment. Read AudioFile's full review, and hear a sound clip.
To explore more of Adam's audiobook performances, check out his audiography.