AudioFile is delighted to feature Maggie Stiefvater's ALL THE CROOKED SAINTS as part of our free summer audiobook program SYNC Audiobooks for Teens. In 1962, a disc jockey fleeing fame and a teenage hitchhiker with a hole in his heart arrive in Bicho Raro, a tiny desert town where a family of Mexican-American saints offers miracles to those who need them. Narrator Thom Rivera shares what he loves about the world that Stiefvater created.
"In Bicho Raro, miracles are never what you'd expect."—Narrator Thom Rivera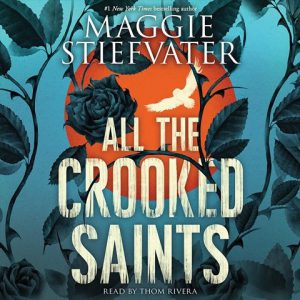 ALL THE CROOKED SAINTS
by Maggie Stiefvater, read by Thom Rivera
Scholastic Audiobooks
Stiefvater's dreamy novel has a huge cast of characters, and narrator Thom Rivera gives each one a distinct voice. His use of a Chicano accent grounds the Soria family's Mexican heritage, and his excellent pacing conveys the emotion in the story's mythic moments. Stiefvater's many fans will find this an engaging and moving listen.
Find more audiobooks from Thom Rivera in his audiography!