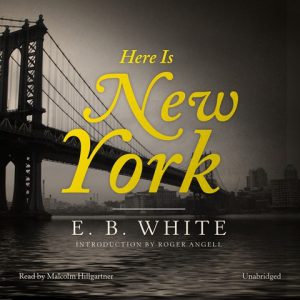 Springtime in the city.  Blue skies, warming temperatures, birds singing. I walk out without a hat, breathe deep, and inhale the pungent scent of aged dog poop revealed by melting snow. Urban life is full of surprises. Yet I love cities in spring, and, for that matter, in summer, fall, and winter. Herewith are a few of my favorite listens in which the city is a character.
E.B. White's classic, HERE IS NEW YORK, may have been written about the great metropolis of the 1920s, '30s, and '40s, but it remains a timeless, perfect love letter to an imperfect urban mistress. The audiobook begins with a cogent 1999 introduction written by White's stepson, editor and writer Roger Angell, which brings the family reminiscences into a contemporary era. Narrator Malcolm Hillgartner reads the introduction and the all-too-brief stroll around the city in an endlessly listenable baritone that manages to be simultaneously rugged and refined.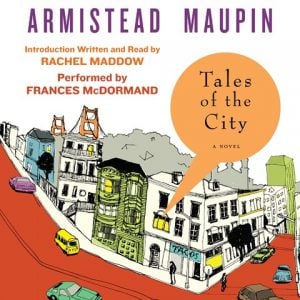 Moving to the other coast, we enter the diverting world of Mrs. Madrigal's San Francisco in the first of Armistead Maupin's TALES OF THE CITY novels. Frances McDormand and Rachel Maddow give an Earphones Award performance of the funny, moving, gossipy portrayal of Baghdad by the Bay at the height of the 1970s and '80s social and sexual revolution. Be forewarned that the series is as addicting as your favorite candy — or other enticement. Begun as a weekly column in the San Francisco Chronicle, this first installment and the nine subsequent books are such cultural icons that you can take Tales of the City walking tours of all the essential neighborhoods. Listen first, then join the pilgrimage.
Now let's jump across the pond, and both back and forward in time. Sci-fi megastar Connie Willis won Hugo, Nebula, and Locus Awards for BLACKOUT and ALL CLEAR, twin novels involving time travel and the London Blitz. Beloved narrator Katherine Kellgren got rave reviews for her performance, which sparkles with the humor in Willis's writing and channels the urgency of that desperate and heroic time. London's grit and resurgent glory are front and center as Oxford historians of the future grapple with a malfunction in their time-travel technology, which has trapped three graduate students in the bombing. As I've mentioned before, I'm a big Connie Willis and Katherine Kellgren fan. These are two books that I've both read and listened to, and now that I'm writing this, I may have to start again from the beginning.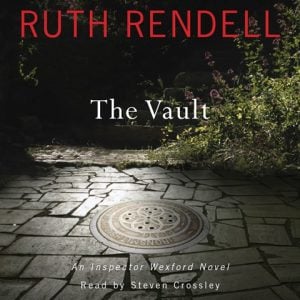 When Ruth Rendell's Detective Inspector Reg Wexford retired from the Kingsmarkham Police Department (after 22 books), he and his wife, Dora, rented a little place in London. Luckily for fans, instead of relaxing, he gets involved in the deliciously weird case detailed in THE VAULT, which takes him all over the city, mostly on foot. As Wexford discovers London's charms and oddities, so do we. The result is beautifully read by Steven Crossley, who gives us the Wexford — comfortable, but with an edge — that fans so love, and colors the city's many characters with regional accents and distinct personalities.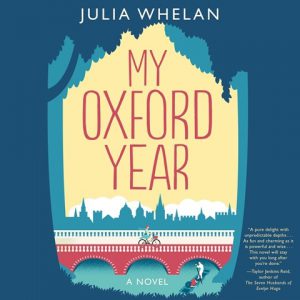 Now for a spot of learning and romance in MY OXFORD YEAR, written and performed by the multi-talented Julia Whelan. Both a romantic comedy and tear-jerker, Whelan's delightful debut novel introduces us to Ella, who's in Oxford on a Rhodes Scholarship, and posh Brit Jamie, her poetry tutor, who may or may not be a complete jerk.  As Ella navigates the vagaries of the heart, she bicycles down hidden lanes, over picturesque bridges, and from crowded pubs to historic colleges. It's a fascinating tour of the ancient city enlivened by contemporary romance.
Let's end our urban tour in the City of Light. Anthony Doerr won an Earphones Award for his performance of his own lapidary memoir FOUR SEASONS IN ROME. With a fellowship for a year of study and writing in the fabled city,  Doerr, his wife, and their infant twins embark on a year of cultural adventure. Funny, sad, uplifting, and joyful, the memoir introduces us to the city's hidden byways and famous vistas, as Doerr and family encounter Roman people, food, and neighborhoods that are simultaneously impossible and marvelous. When you return from Doerr's Roman holiday, try ALL THE LIGHT WE CANNOT SEE, the novel for which he won a Pulitzer Prize. Zach Appelman delivers an Earphones Award performance of the moving story set during World War II.
Now, tell us, which are your favorite cities in spring, or summer, fall, or winter?